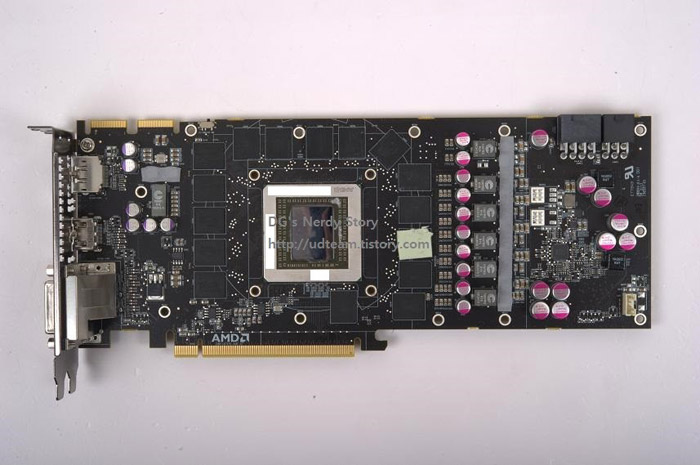 The lucky folks at Techpowerup have had the chance to get and test one of the upcoming AMD Radeon R9 290X high-end graphics cards. They have not only gotten one of these beauties but they have also tested it and the results are more than promising.
The PCB of the graphics card is nothing special and in fact it resembles the previous flagship – the Radeon HD 7970 graphics card. You get digital-PWM voltage regulation, various electronic components and of course the GPU and the memory. An interesting fact is that 16 memory chips surround the GPU, which may indicate the existence of a 512-bit memory bus. According to preliminary information the GPU will be built on 28 nm technology and will have 2816 stream processors, 176 TMUs and 32-64 ROPs. The memory will run at 6000 MHz and coupled with a 512-bit memory bus will output 384 GB of data per second. Impressive!
What's even better is that the first tests of this 3D monster indicate that the AMD Radeon R9 290X will be about 15-20 per cent faster than the GeForce GTX Titan. True, the tests were performed in Aliens vs Predator 3 and Battlefield 3 only but with driver optimizations this gap may grow even larger.
The only thing that remains hidden is pricing but rumors say AMD will price this one very competitively.
(picture courtesy of DG's Nerdy Story)

Source: Techpowerup