In an effort to meet the ever-increasing power needs of modern PCs Raidmax has introduced a new 600W power supply – the RX-600AF.
In addition to its 80 Plus Bronze certification the new RX-600AF model has also been specifically optimized to help minimize electrical usage and lower your energy costs. According to Raidmax the RX-600AF converts up to 85% of the input electricity into usable energy, which translates to less electrical usage and lower energy cost.
The new PSU supports ATX 12V2.2 and offers Short Circuit Protection (SCP), Over Voltage Protection (OVP), and Over Power Protection (OPP). To help maintain optimal operating temperatures with regular usage, the RX-600AF features a powerful fan with a turbo fan controller that gives the PSU extra cooling ability when it is needed.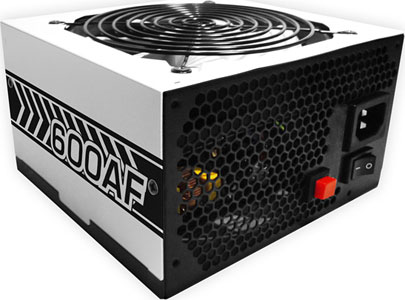 Raidmax has also equipped the PSU with new and numerous high quality connectors that ensure secure connections to your hardware.
On the outside the new Raidmax RX-600AF power supply unit features a classic design in black and white that is also eye pleasing. The cooling fan inside is also white.
The novelty is expected to retail for 60 USD when it hits stores.
Source: Hot Hardware