Here's another graphics monster – a 6 GB Toxic version of the Radeon HD 7970 created by long time ATI/AMD partner Sapphire.
The Taiwanese company released a 6 GB Radeon HD 7970 card that belongs to the Vapor-X line about a month ago but the newcomer is the first 6 GB card that belongs to the Toxic line of graphics cards. Designed for extreme performance the card also features different modes of turbo core speeds.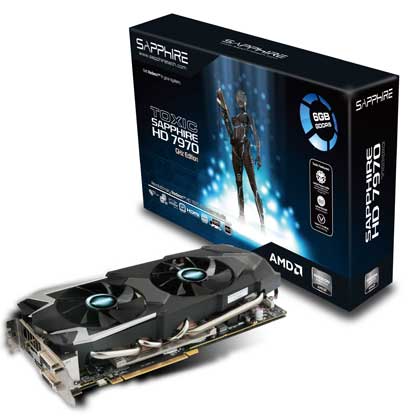 While the need for 6 GB of VRAM is debatable Sapphire does not skimp on frequencies as it often happens with cards featuring lavish amounts of memory. The on-board GDDR5 memory runs at 6000 MHz but using the special Lethal Boost Button and the provided PowerTune Dynamic Boost tool the memory speed jumps to the impressive 6400 MHz. The story with the GPU is the same – it runs at 1050 MHz and with the help of PowerTune Dynamic Boost it goes up to 1100 MHz. But the real speed is unleashed once you press the Lethal Boost Button – then the GPU runs at 1100 MHz by default but using the PowerTune Dynamic Boost it goes up to the screaming 1200 MHz – a first for the industry.
Pricing and availability are unknown, though.
Source: Guru3D.com