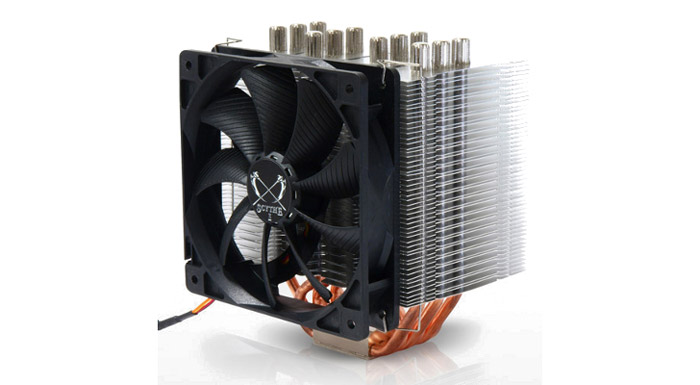 Scythe has started the sales of its high-end Mugen 4 CPU cooler on the European market. The cooler has been designed for use with the most powerful and hot processors and will serve any overclocker and enthusiast very well.
The Mugen 4 measures 130 x 88 x 157 mm and weighs 625 grams. The cooler comes with a copper base with six 6-mm copper heat pipes that get cooled by an aluminum radiator. The entire cooler has been built around Scythe's T.M.A.P.S technology, which stands for Three-Dimensional Multiple Airflow Pass-Through Structure.
The Mugen 4 comes with a large 120 mm cooling fan that spins at 400 – 1400 rpm and pushes between 20.7-79 CFM at noise that ranges between 5.3 dBa and 28 dBa. The cooler also allows for the installation of a second cooling fan.
As expected the Mugen 4 is fully compatible with the AMD AM2/AM2+/AM3/AM3+/FM1 and FM2 sockets and Intel LGA 775/1150/1155/1156/1366 and 2011 sockets. The cooler retails for EUR 39.
Source: Scythe