Silicon Power has proudly introduced the T10 solid-state drive – a 2.5-inch SSD that fully supports the SATA 2.0 interface.
The novelty, we have to admit, is not the fastest on the market, reaching just 278 MB/sec of read speed. The write speed is unknown so Silicon Power will have to rely on the aesthetic looks of the device – which does not disappoint at all with its polished aluminum chassis.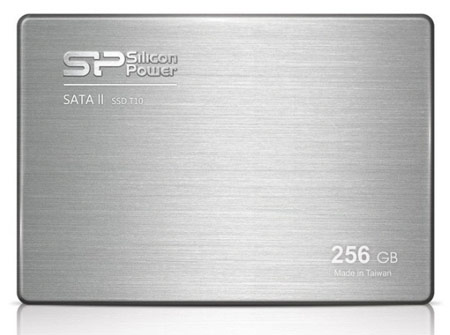 Being a budget-oriented SSD the T10 will be available in 32 GB, 64 GB, 128 GB and 256 GB capacities. The new SSD also features DDR2 DRAM cache for enhanced reading performance and lifespan, built-in ECC error correcting code for better data reliability, Wear-Leveling technology for longer life, low power consumption and the so called TRIM command.
The T10 SSD measures 100 x 69.85 x 9.4 mm for a weight between 64 and 77 grams depending on model. The drive also comes with a 3-year warranty but pricing is unknown.
Source: Silicon Power