Christmas time is the period when many people around the globe get new processors to play the latest games on. Chips need cooling and when you combine these two facts you can see the picture – there's a reason for CPU cooler makers to release coolers right around this time.
Thermalright has taken advantage of this time of the year and has released two new chip coolers designed for fans or owners of Mini-ITX or Micro-ATX systems. The coolers are called Macho 90 and Silver Arrow ITX.
As you can see the Macho 90 is the latest addition to Thermalright's Macho series of CPU coolers and is perfect for small-sized Mini-ITX computer systems. The cooler is just 135 mm tall and can be installed in numerous compact PC cases. In addition to that the heat sink of the cooler is positioned right above the CPU socket, which means RAM incompatibilities and other similar problems will be avoided as much as possible. The Macho 90 measures 102 mm (L) x 127 mm (W) x 135 mm (H) and weighs about 552 grams. It offers four 6 mm nickel-plated heat pipes, highly polished base and black anodized top fin. A high quality 92 mm PWM cooling fan spins on top at 800 – 2000 rpm, makes as much as 27 dBa of noise and pushes between 15.77 – 39.37 CFM of air. What about CPU compatibility – the Macho 90 supports almost all modern processors save for the LGA 2011/2011-3 CPU socket but a special mounting kit is available separately. The installation is simple and a back plate is not needed.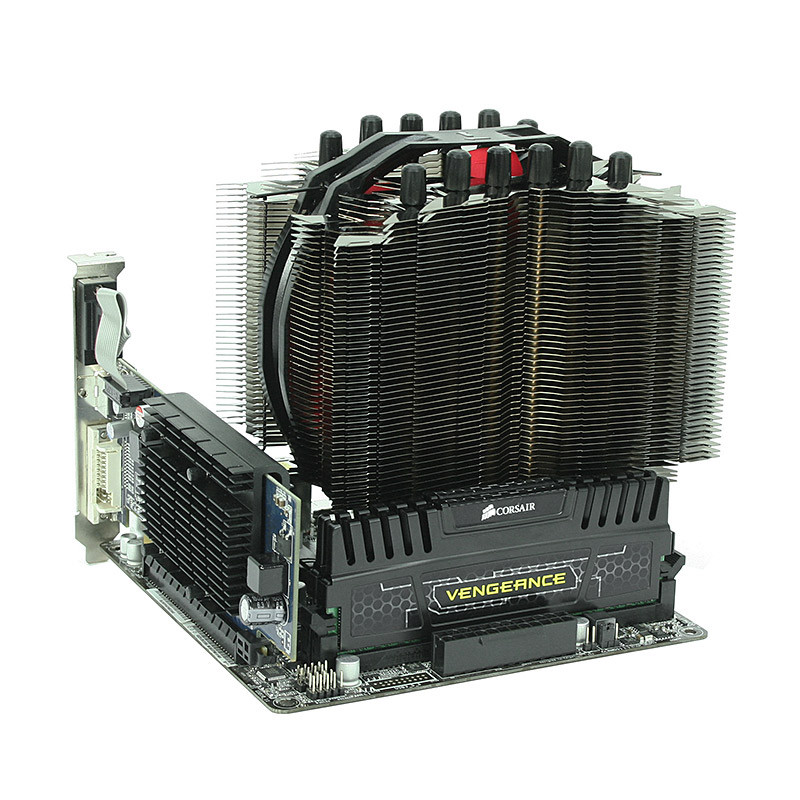 The Silver Arrow ITX cooler targets power users despite its small size and has been developed along with ASUS in order to meet the color combination of the high-end Republic of Gamers product line. The design of the cooler promises no incompatibilities with various motherboards or memory modules and the twin-tower design as well as the installed 140 mm cooling fan promise excellent cooling performance. The Silver Arrow ITX measures 154 mm (L) x 103 mm (W) and 165 mm (H) and weighs 870 grams. The cooler uses six 6 mm heat pipes and spins its cooling fan between 300 and 1300 rpm, pushing 15.42 – 61.68 CFM of air at noise levels that range between 17 and 24.9 dBa. All modern AMD and Intel processors are fully supported.
No word on pricing as of now.
Source: Thermalright