Thermaltake has unveiled a new computer case that is known as Core G3. The new company product comes with unusual looks and makes for one strange-looking but cool computer system.
The Core G3 supports ATX, micro-ATX and mini-ITX motherboards but they have to be installed upside down – that is the processor will be close to the ground. The case also requires a SFX power supply unit so the ATX PSU that you have laying around will simply not make it in there. In addition the case has two bays for 2.5-inch or 3.5-inch storage drives but lacks support for an optical drive so you will have to use an external one if you want to read discs. Another peculiarity is that the case supports video cards that are up to 310 mm long but they have to use a special riser to connect to the motherboard because the video card must be parallel to it. The case supports liquid cooling solutions and 240 mm radiators as well as CPU coolers that are up to 110 mm high.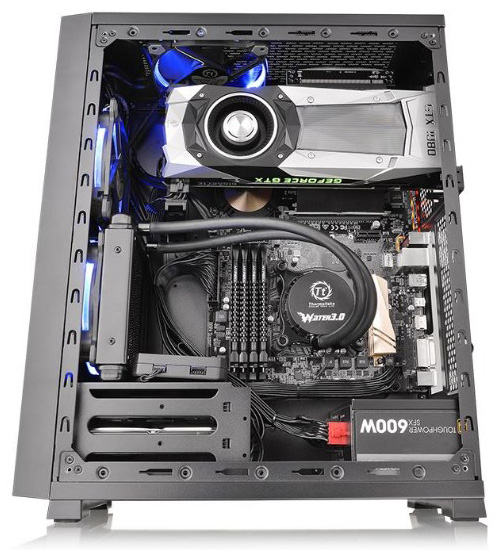 Apart from these peculiarities the Thermaltake Core G3 is made of SPCC steel and measures 454 x 140 x 371 mm, while weighing 4.2 kilograms. This makes for one slim case but Thermaltake has designed the Core G3 for use in entertainment or office PCs. To provide connectivity options Thermaltake has placed the power switch, four USB ports and the audio jacks on the Core G3's front panel. There also are two 120 mm front fans that spin at 1000 rpm, making just 16 dB of noise.
The new Thermaltake case will be available on August 31. The case will sell for GBP 70 after VAT.
Source: Techreport.com