The first specs of the upcoming new generation (third for that matter) of Intel Xeon processors have reached the Internet. The new Xeon chips will be built on the so-called Haswell-EX architecture and will bring a number of improvements like an increased number of cores, larger L3 cache, support for DDR4 SDRAM and new AVX and TSX instructions.
The list of specs is not finished yet but we do know a lot about the upcoming chips. First, Intel will not release E7-2800 v3 processors for two-way servers and all the high-end models in the E7-4800 v3 series will be missing. The rest of the line is truly impressive, though. For instance, the Xeon E7-4800 v3 line will have four models that happen to be the E7-4809 v3, E7-4820 v3, E7-4830 v3 and E7-4850 v3 models. The chips have 8, 10, 12 and 14 cores respectively and each core has 2.5 MB of L3 cache so you get between 20 MB of L3 cache for the 8-core processor and 35 MB of L3 cache for the 14-core chip. The processors run at 1.9 – 2.2 GHz depending on the model and feature 115W TDP. There might be one more model too – the Xeon E7-4857 v3 is said to have 12 cores, 140W TDP and a clock speed of 2.5 GHz.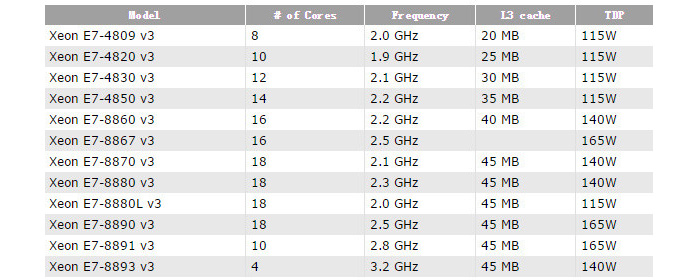 The Xeon E7-8800 v3 series includes mostly 16- and 18-core processors save for the Xeon E7-8893 v3, which comes with 4 cores, 3.2 GHz clock speed and 140-watt TDP. The E7-8891 v3 is a 10-core chip at 2.8 GHz.
The real fun starts with the Xeon E7-8860 v3 and E7-8867 v3 processors that have 16 cores at 2.2 GHz and 2.5 GHz, respectively and TDP of 140W and 165W. The Xeon E7-8870 v3, E7-8880 v3, E7-8880L v3 and E7-8890 v3 are even more powerful since they have 18 cores, Hyper-Threading technology and 45 MB of L3 cache. The processors run at 2 GHz – 2.5 GHz and feature 115W, 140W and 165W TDP, depending on the model.
No word on pricing or when these SKUs will reach the market as of now.
Source: CPU World