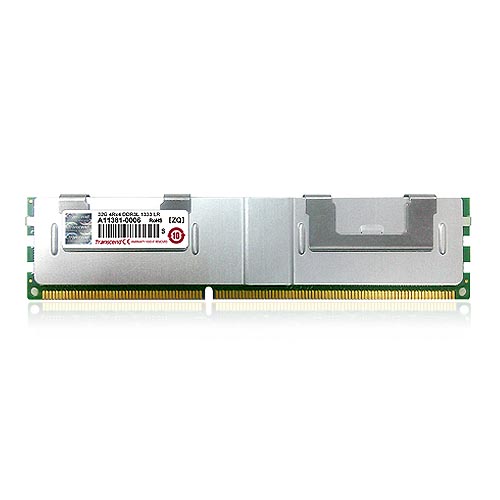 Transcend, one of the world's famous makers of computer memory, has officially announced the arrival of its latest product – a load-reduced DDR3 DIMM memory module with capacity of 32 GB.
Load-reduced DDR3 DIMM memory (LRDIMM) is used in high-performance servers, where it serves to reduce the load on the server memory bus thanks to a specially designed buffer. Another positive feature of this type of memory is lower power consumption. Thus administrators can maximize memory capacity, enhance performance and reduce the power consumption of the servers.
The new Transcend DDR3 LRDIMM memory operates at 1333 MHz and offers 32 GB of capacity per memory module. Sporting part number TS4GKB72W3P the memory is ideal for use in servers that require maximum memory performance and are used for memory-intensive applications such as cloud computing and virtualization. Thanks to its innovative memory buffer chip on the module, which acts as a buffer between all signals sent from the host to the DRAM chips and reduces the electrical load on all interfaces, the Transcend LRDIMM memory eases support for more memory channels and higher maximum memory capacity. Depending on the hardware inside a server with LRDIMM memory can make use of up to 768 GB of memory.
The new Transcend LRDIMM memory module with capacity of 32 GB is available now and comes with lifetime warranty and unmatched reliability. Transcend did not mention pricing though.
Source: Transcend