Western Digital has announced the market availability of its newest product – a 1 TB VelociRaptor hard drive, which makes it the most spacious 10 000 rpm hard drive currently on the market.
"WD is committed to providing customers with the best performing and most reliable SATA hard drives and our WD VelociRaptor family of drives underscores that promise," said Darwin Kauffman, vice president and general manager of WD's enterprise storage. "With ever-increasing demand for greater capacity, the new 1 TB WD VelociRaptor drive delivers the ultimate combination of speed and storage for the power user."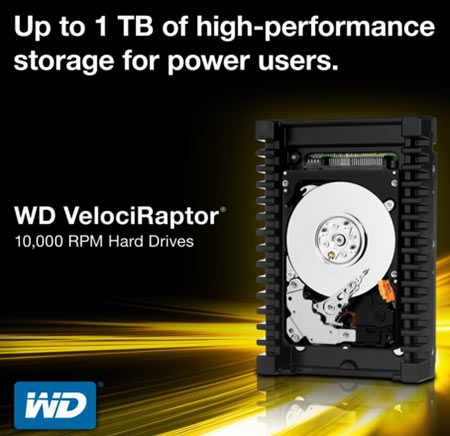 Designed for high-performance PCs, Mac computers and professional workstations that require a balance of high performance and capacity, the WD VelociRaptor drive is a favourite among enthusiasts and creative professionals. Also available in 500 GB and 250 GB models the new drive uses the latest SATA 3.0 interface and sports 64 MB of cache that helps move data at impressive 200 MB/sec sustained read/write speed.
For further protection the new 2.5-inch VelociRaptor hard drive comes in the so called IcePack enclosure, which is a 3.5-inch mounting frame with a built-in heat sink – a factory customization that fits the drive into a standard 3.5-inch system bay and keeps the powerful drive extra cool when installed in a high-performance desktop or workstation system.
The 1 TB model of the latest VelociRaptor hard drives will retail for 319.99 USD, the 500 GB model will cost 209.99 USD and the 250 GB version will be yours for 159.99 USD. All prices are MSRP. The drives also come with a 5-year limited warranty.
Source: Legitreviews