Xigmatek is best known for making PC cases and cooling solutions but starting now the company also has power supply units (PSU) under its own brand name. Who knows – maybe Xigmatek will establish a name for quality PSUs as well.
The first PSU line by Xigmatek is called Shogun and includes three models with 500W, 600W and 700W of power output. The new PSUs fully comply with all ATX12V v2.3 and EPS12V v2.92 requirements and offer 80 Plus Bronze efficiency. In addition to this the new PSUs all use Japanese capacitors and have active power correction and all protections that users expect from high-end PSUs.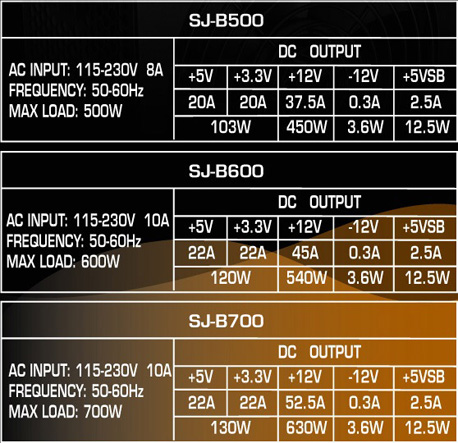 The Shogun PSUs can work at ambient temps of up to 50°C and get cooled by aluminum heat sinks and more importantly by 120 mm cooling fans that spin at up to 1800 rpm. The fan of the 700W model is a bit faster and works at up to 2000 rpm. No matter the power output, though, the three models offer the same cables – a single ATX connector, one EPS12V (4+4 pin) connector, two 6+2-pin PCI-E power connectors, three 4-pin molex connectors, and finally one FDD and six SATA connectors.
No word on pricing as of now.
Source: Xigmatek