Jou Jye Computer company announced a new system for active air cooling processors under index G556, designed for Intel Core i7 with socket LGA1366.
This cooler has dimensions of 94 x 89,5 x 64 mm and weighs 460 g. The product consists of a constructive copper bases, four copper heat pipes and aluminum radiator with   a fan which has size 77 x 77 x 20 mm.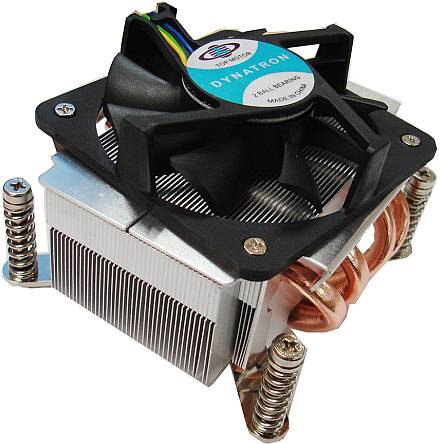 The speed of "propeller" is automatically adjusted according to changes in temperature, ranging from 1000 to 5500 rev/per minute and can pump it up to 53.9 cubic feet of air per minute, and the noise is in the range of 20.6 to 51.4 dB.
The price of the device will be € 77.
Specification:
Intel® Nehalem EP Processor Socket LGA 1366 for 2U Server & Up

Overall dimensions: 94.0 x 89.5 x 64.0 mm

Weight: 460 g

Heat sink

Material: Copper Base & Aluminum Fins with Heatpipes embeded

Finnumber: 0

Fan


Dimension: 77 x 77 x 20 mm

Speed: At Duty Cycle 0%: 1000 rpm
At Duty Cycle 20%: 1000 rpm
At Duty Cycle 100%: 5500 rpm


Bearing: 2 x Ball

Rated Voltage: 12V

Power: At Duty Cycle 0%: 0.54 W
At Duty Cycle 20%: 0.54 W
At Duty Cycle 100%: 9 W





Air flow: At Duty Cycle 0%: 8.36 cfm
At Duty Cycle 20%: 8.36 cfm
At Duty Cycle 100%: 53.899 cfm





Noise Level: At Duty Cycle 0%: 20.6 dBA
At Duty Cycle 20%: 20.6 dBA
At Duty Cycle 100%: 51.4 dBA





Air Pressure: At Duty Cycle 0%: 0.009 inch-H2O
At Duty Cycle 20%: 0.009 inch-H2O
At Duty Cycle 100%: 0.220 inch-H2O


Height: 0




Weight: 0




Lead Wire Pin Out: Pin1-Black (-)
Pin2-Yellow (+)
Pin3-Green (Techometer/Signal output)
Pin4-Blue (PWM

Source:

3D news