The leading manufacturer of rugged computers, Getac, introduced its new rugged convertible V200, which is one of the most powerful rugged convertible notebooks in the world, offering great features and functions.
The rugged convertible notebook V200 is equipped with an advanced Intel Core i7-620LM processor which is running at 2.0GHz (maximum 2.8GHz), with the Intel Turbo Boost Technology. Each of the processor cores has a 4MB of Intel L3 Smart Cache available, which improves the efficiency.
The V200 convertible notebook also comes equipped with a 12.1 inch wide screen display plus a Getac exclusive 1200 NITs QuadraClear technology which makes the display easy to see under direct sunlight. The display of the convertible notebook also features multi-touch functions.
"The new V200 is the most powerful and feature rich fully rugged convertible available," explains Jim Rimay, president, Getac. "Its rugged design, fast processor and extensive features and functions make it the most useful, all-purpose tool for field-based applications in the industry."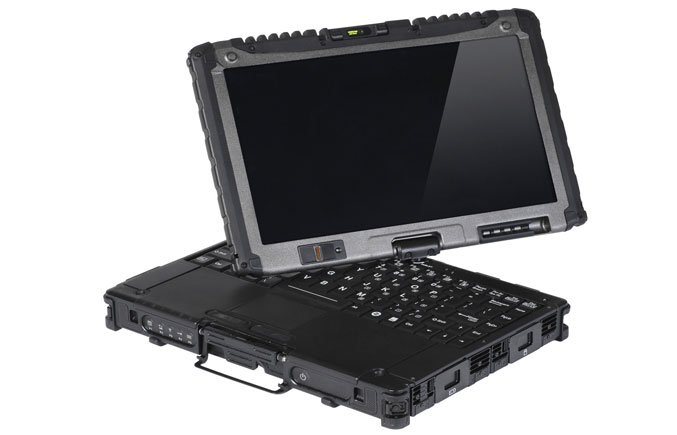 The V200 notebook weights under six pounds and includes a 320GB shock mounted hard disk drive (also available in 80GB solid state drive).
The rugged V200 notebook also includes features like 802.11n WiFi, Bluetooth 2.1, 10/100/1000 GigaLAN and GPS navigation, as well as a full-size 88-key keyboard. It has built-in USB, VGA, RS232, eSATA, SD Card Reader and PCMCIA ports, to extend the flexibility of the device.
A finger print reader is located on the display in order to provide security for the owner. The innovative LifeSupport battery swapping system allows the consumer to change a depleted battery with a charged one very quickly.
The Getac rugged convertible V200 notebook comes with a five year warranty, and will be available in October, 2010.