Solo™, the world's smallest digital relay, commonly called a repeater, is available now from RF Window. This plug-and-play digital relay delivers high-quality cellular phone coverage to indoor, poor signal areas using a consumer-installable relay system that mounts on walls, ceilings, or a stand.
Solo is the newest and smallest addition to s line of in-building ICS (Interference Cancellation Systems) Digital Relays at only 16cm tall by 15.5cm wide. These in-building units provide high quality voice and data coverage anywhere – from SOHO to large commercial buildings and even underground. Because of the small size of the Solo ICS Digital Relay, its service antenna is embedded and its donor antenna may be embedded or external depending on the RF environment. The Solo supports W-CDMA, HSPA, CDMA, and EV-DO with GSM support on the roadmap.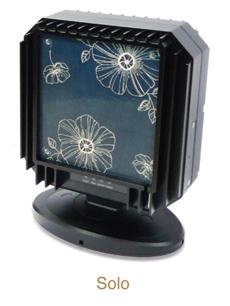 "Our Solo product results from working with advanced wireless operators for several years to meet their requirements for easy-to-install, low-cost, QoS-quality in-building coverage," said Seong Jae Lee, Chairman of RF Window. "Positive trial feedback from over 30 wireless operators confirms that Solo provides the coverage and quality improvements that carriers need in their last mile network. With 25,000 commercial relays in live cellularstep networks, our ICS is field-proven."
Full product specifications are available on the website, www.rfwindow.com, along with details about the full product line of RF Window ICS Digital Relays which scale from 13 dBm to 20-watt outdoor systems. RF Window continues to innovate and work with its operator customers' deployment requirements to achieve cost-efficient QoS for voice and data services.
RF Window is exhibiting at CTIA Wireless 2009 in booth #6938 and executives are available to media and analysts upon request.
Source: Press Release