Samsung Electronics America, a subsidiary of Samsung Electronics Corporation, a global leader in digital media and digital convergence technologies, today announced the N110 and N120 as the newest additions to their mini notebook lineup. The N110 and N120 are both currently available through Samsung.com and online retailers with an MSRP of $469 and $459, respectively.
"Our mini notebooks represent Samsung's desire to offer high quality, mobile focused solutions that create user value with important features such as design, ergonomics and battery life," said J.H. Kim, President of Samsung Electronics America's Information Technology Division. "With the addition of the N110 and N120, we have expanded our lineup with enhanced battery life, multi-media speakers and a larger keyboard and touchpad. These key features will satisfy the needs of users looking for audio video capabilities, while also supporting the road warriors needing extended battery life."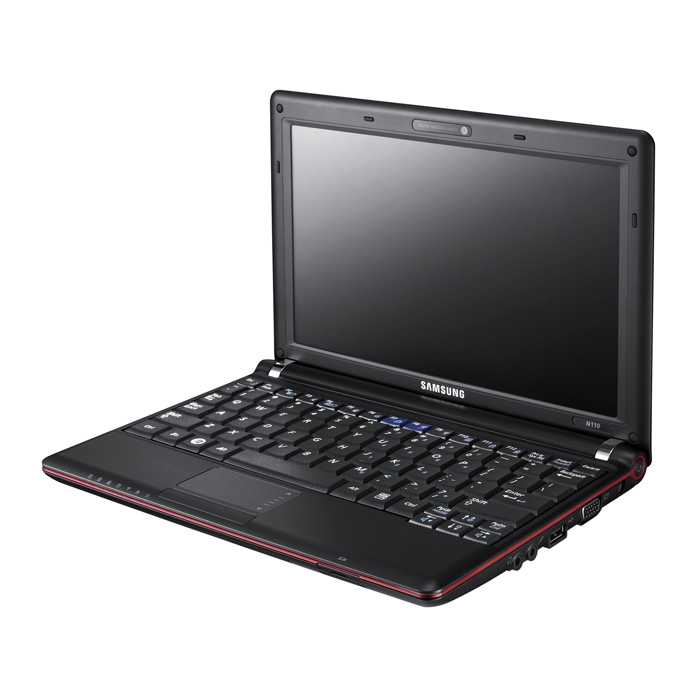 The N110 mini notebook's compact design, 10.27" (W) x 1.19" (H) x 7.3" (D), is lightweight, only 2.78 lbs, and capable of being stowed in a briefcase or travel bag. Despite its size, the N110's keyboard has an ergonomic-friendly 93% full-size keyboard and a 10" LED SuperBright© Glossy Backlit Display, along with a 6-cell (5900mAh) lithium battery providing battery life up to 9 hours of continuous use. With a 1.6GHz processor, 1GB of RAM and 160GB hard drive, this mini notebook is functional for browsing the internet and software applications.
The N120 mini notebook caters to those looking for a richer multimedia experience. While also compact, 10.71" (W) x 1.71" (H) x 7.4" (D), and weighing only 2.8 lbs, the N120 features the convenience of a 97% full-size keyboard with trackpad, along with a 6-cell (5200mAh) lithium battery providing battery life up to 6 hours of continuous use. Its SRS 2.1 channel system, featuring two 1.5 watt stereo speakers and a dedicated subwoofer offers a high quality sound and integrated 1.3 megapixel digital motion camera provides video-conferencing capabilities.
N110 Notebook
Dimensions: 10.27" (W) x 1.19" (H) x 7.3" (D)
Intel® Atom™ Processor N270 (1.60GHz, 533MHz, 512KB)
Genuine Windows XP Home (SP3) operating system
1GB (DDR2 / 1GB x 1) of memory
10.1″ WSVGA (1024 x 600) SuperBright© Glossy Backlit Display
160GB (5400 rpm SATA) HDD
802.11b/g, Bluetooth 2.0 + Enhanced Data Rate
10/100 RJ45 Ethernet
3-in-1 Card Reader (SD, SDHC, MMC),
Three (3) USB 2.0 ports
Headphone-out,/Mic in; Integrated Mic
VGA Out (15-pin, D-sub)
1.3 Megapixel Web Camera
Six-cell (5900mAh) Lithium ion battery for up to 9 hours of use
3 W Stereo Speaker (1.5 Watt x 2 )
One-Year International Collect and Return Warranty
N120 Notebook
Includes almost all features of the N110 except for the following:
Dimensions: 10.71" (W) x 1.71" (H) x 7.4" (D),
3 W Stereo Speaker (1.5 Watt x 2 ) with Subwoofer
Six-cell (5200mAh) Lithium ion battery for up to 6 hours of use
97% Full-size keyboard
All mini notebooks are available through Samsung resellers and distribution channels, which can be located by calling 1-800-SAMSUNG or by visiting www.samsung.com. Samsung Power Partners receive special promotions, lead referrals, training and technical support, as well as collateral and marketing materials. To find out more about becoming a Samsung Power Partner, visit www.samsungpartner.com.
Source: Samsung