SanDisk Corporation  announced that it has begun shipping its next-generation flash memory-based solid state drives (SSD) for netbooks, offering high-performance components at a competitive price. SanDisk® pSSDTM P2 and S2 employ a new technology called nCacheTM, which improves netbook performance. The drives will be demonstrated at the SanDisk booth at Computex, Taipei, June 2-6, 2009: Booth # N709 Nangang Hall, 4th floor.
Netbooks are small, low-cost computers that offer consumers a highly portable means of surfing the Internet, accessing email as well as enjoying their favorite music and videos on the go. Market researchers, IDC, project consumer purchases of netbooks to rise from 11.5 million sold in 2008 to 50 million in 20131.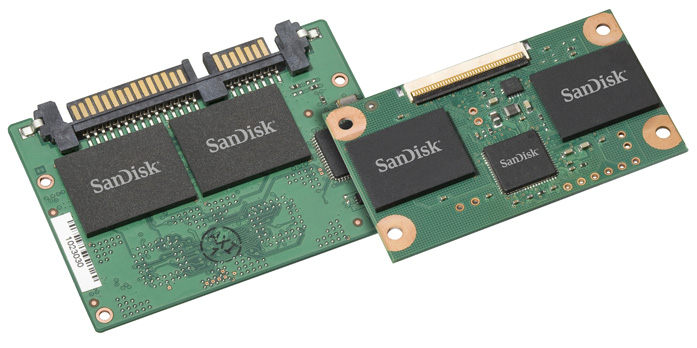 nCache: Advanced Technology for Faster Performance
SanDisk's exclusive nCache technology is a non-volatile write cache capable of supporting burst performance up to five times the steady state vRPM2 to further enhance the user experience3. nCache improves user responsiveness and helps prevent incidence of "stalling" or "shuddering" often seen in first generation netbook SSDs.
The SanDisk pSSD P2 and S2 drives offer 9,000 vRPM of steady state performance in addition to nCache, which goes beyond this and offers a non-volatile cache of up to 320MB* to support bursts of random write commands maximizing system responsiveness. In addition, because nCache is non-volatile, the user's data is protected in the event of a power interruption.
"Full-featured operating systems make tremendous demands in the storage device – writing large amounts of data in fast bursts using small random transfer sizes," said Doreet Oren, director, product marketing, SanDisk. "SanDisk pSSD drives with nCache offer up to 50 times the random write performance of our first generation SSDs, delivering on the SSD promise for netbooks."
Strategic Collaboration to Lower Netbook Costs
"As Netbooks migrate from retail stand-alone systems to operator-managed devices, many mobile network operators (MNOs) will consider Linux and netbooks with ARM processors for their low power consumption, low cost and greater customization capabilities," said Tim Bajarin, president and principal analyst, Creative Strategies, Inc. "This enables key component suppliers to lower bill of materials costs without sacrificing performance or crucial equipment capabilities."
Engineers from SanDisk and Canonical, the creator of the popular Ubuntu Linux-based operating system (OS), have worked closely on system optimizations for the Gen2 pSSD, resulting in improved system responsiveness and longer battery life.
"Canonical is enabling original equipment manufacturers (OEM) and designers (ODMs) to offer consumers a fantastic user experience with Ubuntu Netbook Remix running on netbooks," said Chris Kenyon, director, OEM services, Canonical. "Our tests have shown SanDisk second generation pSSD equipped with nCache performing significantly better than a 5400 RPM HDD, providing Ubuntu users with the speed and stability that they need."
SanDisk pSSDs are also ideal for use in netbooks equipped with ARM processors like Freescale's i.MX515 device, which offers impressive performance at costs that let OEMs and ODMs meet critical price points. The processor's advanced power management features extend battery life and eliminate the need for energy-sapping fans or costly heat sinks.
"All-day battery life is critical in the netbook space, where OEMs carefully evaluate each component for optimal energy efficiency," said Glen Burchers, marketing director, consumer segment, Freescale. "Like Freescale's i.MX51 processor, SanDisk's pSSDs are designed with power management in mind, thus addressing critical market requirements."
Availability
Available in capacities of 8, 16, 32 and 64-gigabytes (GB)*, SanDisk second-generation pSSD drives are attractively priced for segments such as Netbooks, POS terminals, printers, ATMs and other applications where users need HDD functionality with improved reliability, yet want to pay only for the exact capacity that they need.
Source: SanDisk