Seagate has launched as they claims world's first 1.5 terabyte (TB) 2.5-inch portable external drive. The Seagate FreeAgent GoFlex offers USB 3.0 connectivity, it is compatible with Mac and PCs and comes with a free copy of "Star Trek" and the option to purchase up to 20 other films.
The new black glossy 1.5TB GoFlex drive comes with USB 3.0 interface cable, which Seagate claims will allow transfer speed up to 10x compared to a USB 2.0 port and can transfer a 25GB file in under five minutes. The drive also features GoFlex storage system, that offers upgrade cables and kits that make it easy to move up from USB 2.0 to USB 3.0, eSATA or FireWire 800 and allows you to upgrade your interface for faster transfer speeds, and access your content on your network, your TV, and everywhere you go.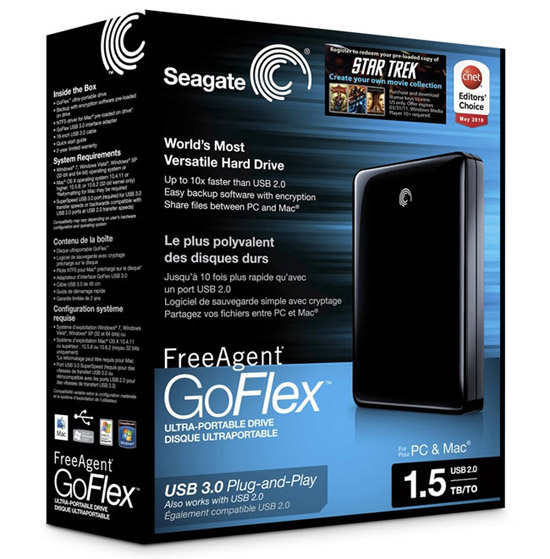 "Today's announcement is a 'triple-crown' of consumer technology—packaging record breaking capacity, blazingly fast USB 3.0 connectivity and the bonus of movie entertainment—making the 1.5TB GoFlex™ ultra-portable drive an unprecedented and innovative solution," said Darcy Clarkson, vice president of Global Retail Sales and Marketing for Seagate. "Bringing this solution to market on the heels of our 3TB GoFlex™ Desk drive and the Momentus® XT solid state hybrid drive is proof of Seagate's continuing technology leadership and tradition of setting storage industry milestones."
The 1.5TB GoFlex  drive is available now for $249.99.