Flash memory manufacturer, Silicon Power follows their success of the Armor A10, a silicon rubber protected portable hard disk drive with an ultra protected portable hard disk drive that derived from similar concepts, the Armor A50. Set to be unleashed on Oct. 21, the Armor A50 further expands the concept of the A10. The result is a shock proof and ultra rugged portable hard disk drive with an elegant aluminum construction. It adds more option to the existing portable hard disk drive lineup.
In compliance with US MIL-STD-810F (transit drop test), it was tested for (1) product dropped directly onto a concrete floor (or harder surface); (2) on a drop-test machine, the product freefalls from a height of 122cm and from the freefall; (3) there are 26 contact points (8 corners, 12 cut surfaces and 6 major surfaces) that were tested.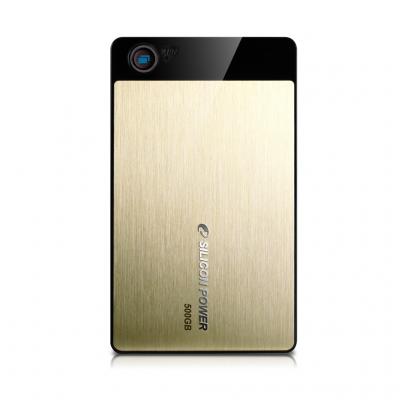 Silicon Power's Armor A50 passed the test with ease, ensuring the data stored is safe from damage! In addition to its similar ultra shock proof characteristics to the Armor A10, Silicon Power's Armor A50 features hairline treated aluminum construction. The hairline surface is fingerprint proof and its raised imprint logo gives off an elegant aura, perfect for the business professional.
Armor A50 utilizes the USB 2.0 interface that features a maximum of 480Mb / sec transfer rate and is backwards compatible with USB 1.1. Made convenient for users, there is also an OneTouch backup button and LED status light to indicate current transfer modes. Silicon Power's Armor A50 is plug and play compatible, comes with a 60-day trial version of Norton Antivirus software. Armor A50 provides users with 24/7 protection, hardware and software wise! It comes with a 2-year warranty and is available in 250GB, 320GB, 500GB, 640GB capacities.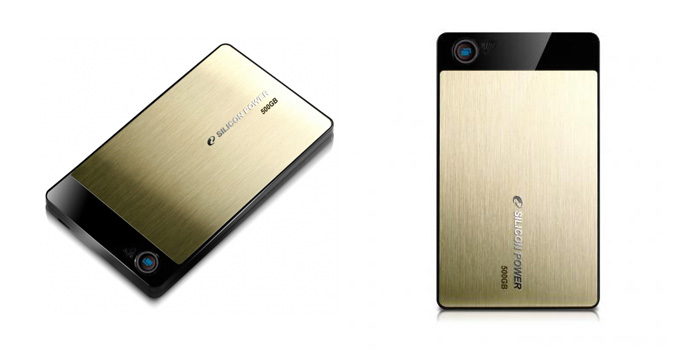 Breaking away from traditional Silicon Power package designs, the Armor A50 packaging is see-through. The see-through design is to allow for a direct perception of the aesthetics of the Armor A50. The festive season is near, it the design makes it the perfect gift for tech-savvy individuals!
Features
-Armor A50 features raised imprinted SP logo
-Plug and play compatible, easy to use
-High storage capacity and fast transfer rate (max. 480Mbits/sec)
-In compliance with US military MIL-STD-810F transit drop test
-LED status light to indicate transfer modes
-Has a OneTouch backup button
-Comes with management software/password protection/60-day trial version Norton Antivirus
Specification
-Dimensions:133.5 x 78.0 x 16.3mm
-Weight:200g
-Standard Compliance:USB 2.0 / 1.1
-Data Transfer Rates:Max. 480 Mbps (USB 2.0 Mode)
Max. 12 Mbps (USB 1.1 Mode)
-Power:DC5V (Power supplied through USB)
-Operating temperature:5℃~ 55℃
-Storage temperature:-40℃~ 70℃
-Supported Operating Systems:Windows Vista, Win XP, Windows 2000, Mac OS 9.0.4 or later
-Two-year warranty
Source: Silicon Power