The pioneer in small hard disk drives, Toshiba Storage Device Division, announced a range of new 2.5 inch SATA drives at 7,200 RPM. Toshiba's 7,200 RPM 2.5-inch small form factor hard disk drives are optimized for performance and power consumption.
Official Features:
MKxx61GSY: Available in 160 to 640GB1 capacities, the MKxx61GSY is targeted at high-end notebook PCs, gaming laptops, and mobile workstations as well as all-in-one and slimline desktop PCs. Using Toshiba's extensive experience in the mobile computing market, the MKxx61GSY offers greater power efficiency and durability over 3.5-inch drives.
High-Durability MKxx61GSYB: Leveraging the MKxx61GSY platform, the MKxx61GSYB series is a high-durability model targeted at demanding 24×7 applications such as network routers, network switches, blade servers, and point-of-sale terminals in a full range of capacities from 80 to 500GB. The MKxx61GSYB offers nearline storage levels of reliability and performance in a small form factor design.
Self-Encrypting Drive (SED): The third member of the family, designed to the TCG Opal Specification, provides industry-standard, government-grade security features for organizations wanting to secure data at rest for compliance with data privacy policies. The SED drives will be available after launch of the GSY and GSYB series models.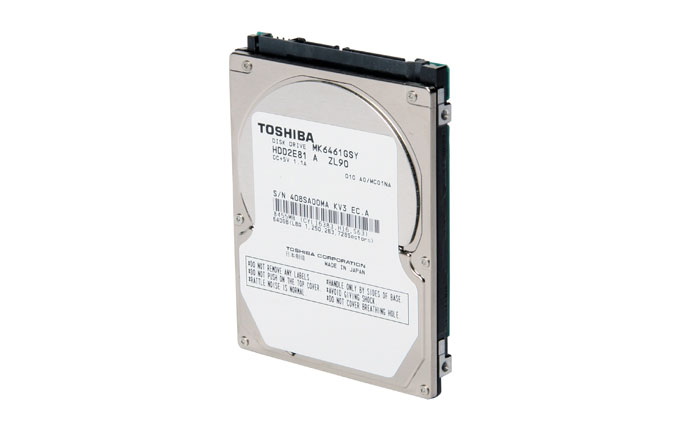 With lowered heat generation and power consumption, the new drives can operate extremely quiet. The MKxx61GSY also has an optional "free-fall" sensor, which securely locks the heads of the drive in place when dropped. This provides a solution for mobile applications while raising the level of durability.
"With this family, Toshiba is addressing the high-performance 2.5-inch market and enabling system differentiation in the fiercely competitive notebook PC market. The MKxx61GSY is designed for speed, with a balanced approach to storage capacity, durability, power consumption, and acoustics, compared to 5,400 RPM mobile and 3.5-inch desktop drives," said Maciek Brzeski, vice president of marketing at Toshiba Storage Device Division. "We have been able to transfer our extensive experience to the enterprise market so that the MKxx61GSYB meets demanding applications that require greater durability, availability, and performance."
"Extracting additional value from HDDs with performance, security, and other features is challenging, requiring market savvy in addition to technological prowess from the HDD supplier," says John Rydning, research director at IDC. "Executing on this strategy, Toshiba is addressing the market's needs with a differentiated product line-up based on one family which helps customers get to market efficiently with key product differentiation."
The MKxx61GSY will be available in the fourth quarter of 2010.