SPARKLE Computer Co., Ltd., the professional VGA card manufacturer and supplier, today introduced the SPARKLE GeForce GTS250 Low Profile Graphics Card, the world's first low profile graphics card based on GeForce GTS250 graphics chip, providing powerful 3D performance and amazing home theater experience to HTPC enthusiasts.

Low Profile Design
Consummately designed low profile, the PCB height of the SPARKLE GeForce GTS250 Low Profile Graphics Card is 6cm,only half the height of ordinary Graphics Card with full profile design, which makes the SPARKLE GeForce GTS250 Low Profile Graphics Card to be the best partners for HTPC. HTPC enthusiasts don't need to worry about the inconvenience caused by narrow space HTPC chassis and full profile designed graphics cards. With low profile design, the SPARKLE GeForce GTS250 Low Profile Graphics Card not only can easily meet the HD video playback and DX10 gaming demand from HTPC users, but also can easily satisfy the requirements from SSF, mini-chassis and industry PCs which demand compact and practical graphics card.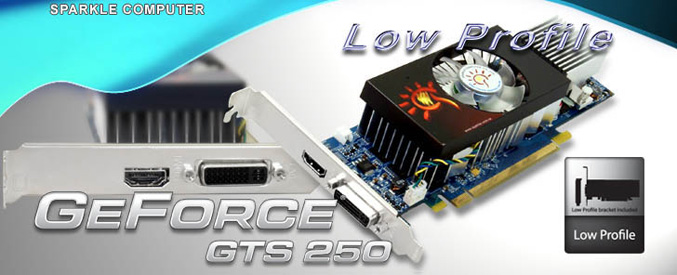 1024MB/512MB Large-Capacity GDDR3 Memory
Today's game, such as Crysis, Alone in the Dark 5, Stalker: clear sky, they normally use a large number of bump texture, transparent texture to describe faces of characters and render realistic gaming scenes, so these games put higher demands on the capacities of video memory. The SPARKLE GeForce GTS250 Low Profile Graphics Card comes with incredible large 1024MB/512MB and high speed GDDR3 video memory can let mainstream users pass the 3D Mark Vantage High Test which strictly demand at least 512MB video memory. Meet the needs of a large number of 3D games, allowing the gamers to enjoy the pleasure brought by 3D games.
Single 6pin Power Supply
Today's GTS250 series graphics card is equipped dual 6pin power supply to run 3D games and HD movies. By strong RD team, SPARKLE GTS250 Low Profile graphics cards decrease the power consumption and it's only occupy 1 single 6pin power supply .With environmental protection conception inside, this eco-friendly function will dramatically reduce power consumption and heat emissions, effectively against global warming and manage to do energy conservation.
Native HDMI Support
In order to keep pace with HD tideway, the SPARKLE GeForce GTS250 Low Profile Graphics Card feature native HDMI support on PCB. Now the SPARKLE GeForce GTS250 Low Profile Graphics Cards passed the rigorous HDMI ATC certification tests in High-Definition Media Interface Authorized testing center, they can deliver vivid HD gaming audio and video through one single cable, provide more convenience to pc games and video enthusiasts to play games or watch HD videos on their HD TV.
All Solid Capacitors
Equipped all solid capacitors with lower power loss, provide more stable and longer product lifespan.
Cooling System
Exquisitely made cooling fans, which have quiet and high performance thermal compound . Specially equipped heat sink to cool the MOS circuit and memory to bring the most comprehensive cooling solution to ensure optimal thermal dissipation even after years of use.
2nd Generation Pure Video HD
High-definition video decoder and post-processor completely offload the CPU load and delivers unprecedented picture clarity, smooth video and accurate color for movies and video.
Full Microsoft ® DirectX ®10 Support
DirectX 10 GPU with full Shader Model 4.0 support,delivers unparalleled levels of graphics realism and film-quality effects.
NVIDIA™ PhysX
GeForce GPU support for NVIDIA PhysX technology, enabling a totally new class of physical gaming interaction for a more dynamic and realistic experience with GeForce.
NVIDIA™CUDA Technology
CUDA technology unlocks the power of the GPU's processor cores to accelerate the most demanding system tasks such as video transcoding delivering up to 7x performance over traditional CPUs.
Specification:
Model Number
SXS2501024D3L-NM

SXS250512D3L-NM

Graphics Processing Unit
GeForce GTS250
Core Clock
600MHz
Memory Type
1024MB GDDR3/512MB GDDR3
Memory Interface
256-bit
Stream Processors
128
Stream Processors Clock
1500MHz
Bus Type
PCI-Express 2.0
RAMDAC
400 MHz
Outputs
DVI-I+HDMI+HDCP
Source: Sparkle