SPARKLE Computer Co., Ltd., a professional VGA card manufacturer and supplier, today proudly Announced X-Link, making a USB port into a true external video adapter, providing more convenience to users who need multi-monitors to work with.
SPARKLE X-Link is the revolutionary USB to DVI external adapter which offers virtually perfect video quality and turns your USB port into a true Video port, making it to be the industry's most outstanding external video adapter. With the adapters inside the retail package, users can freely connect it with the monitor which has DVI, HDMI or VGA interface. Any SPARKLE X-Link product can connect to a monitor, support up to 6 monitors at the same time with same image output, enabling users to expand their desktop or mirror their desktop to six additional monitors.

As an external video adapter that allows for multiple displays, SPARKLE X-Link uses an embedded chip that has very low power consumption during signal exchange from USB to video. SPARKLE X-Link provides the perfect solution for users, turning any available USB 2.0 port on your Desktop or laptop into an additional video output for use with another display way, be it DVI, HDMI or VGA – providing easy plug and play, high quality, dual display or multi-monitor capability that can be used in a variety of laptop or desktop applications, increasing productivity, multi-tasking, gaming, multi-media video, graphics editing and so on.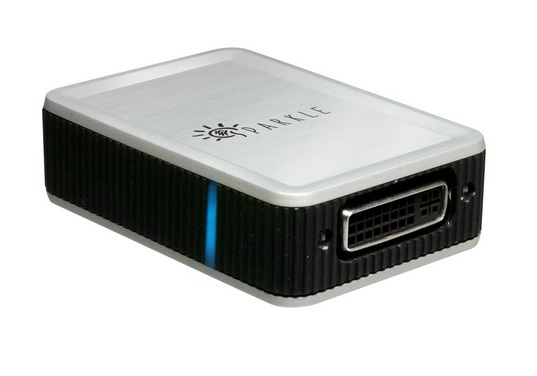 SPARKLE X-Link has the excellent image display resolution, SPARKLE X-Link connects to a host computer through a USB 2.0 port, acting as an external DVI video adapter that can be used to extend or mirror the desktop shown on the 1 to 6 additional monitors, allowing resolution up to 1600 x 1200 or 1680×1050 – without having to open the computer case.
With SPARKLE X-Link, gamers don't need to take into account the mode switching among play games and research strategy or chat with their friends. SPARKLE X-Link achieves multi-tasking display and make you handling these easily. SPARKLE X-Link is the final solution to expand your gaming delight. Besides, the DVI side of SPARKLE X-Link can also be connect with DVI-HDMI adapter with HDMI support, or with DVI-VGA adapter to with VGA support.
SPARKLE X-Link is also apply to industrial users, regardless of the stock trading, manufacturing or medical education, SPARKLE X-LINK provides a wide range of multi-screen display solution with outstanding features, such as small factor, plug and play, low power consumption and so on.
SPARKLE X-Link has excellent compatibility to supports multi-OS, such as Windows Vista/XP/2000 even Mac OS.
Model Number

SPF-16

Main Chip

DisplayLink DL-160

Video Output

DVI-I (HDMI / CRT ready via adapter)

USB Specification

USB 2.0

Memory Type

DDR

Max Resolution Support

1600×1200 or 1680×1050

Max Monitors Support

6

OS Support

Windows Vista Aero and 32 bit
Source: Sparkle