The world's biggest online retailer Amazon has officially announced the second generation of its wildly successful Kindle Fire tablet line at an event held in California, USA.
Four different models represent the new Kindle Fire generation – Kindle Fire, Kindle Fire HD 8.9, Kindle Fire HD 8.9 4G and Kindle Fire HD with all of them coming with nice hardware and low prices!
Let's start with the Kindle Fire – Amazon nicely surprised its customers with the new Kindle Fire that now features 1 GB of RAM, which is twice the memory found in the older model and a faster 1.2 GHz dual-core OMAP4430 processor. The display stays the same at 7 inches and there's 8 GB of internal storage. If you are not impressed read this – the newer faster Kindle Fire now costs less than what the older model used to sell for – you can get it for just 159 USD, or 40 USD less than the older generation! The new Kindle Fire will begin shipping on September 14 but you can pre-order yours now.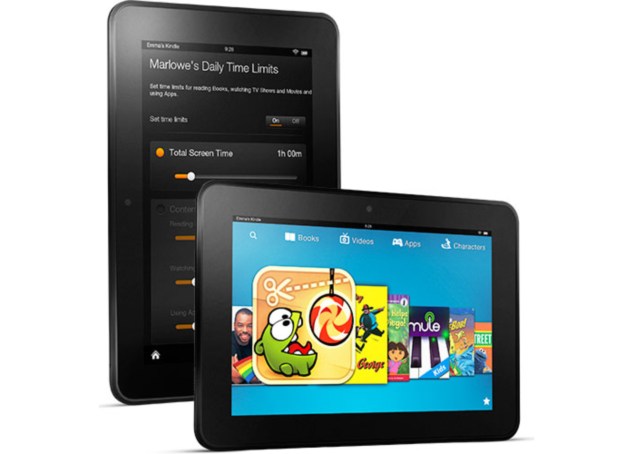 The Kindle Fire 8.9 HD comes in two versions – with Wi-Fi and 4G support. The tablets feature 8.9-inch displays (1920 x 1200 resolution) as the name suggests and sport dual-core Texas Instruments OMAP 4470 processors clocked at 1.5GHz and a forked version of Android 4.0.3. There's also support for HDMI and Bluetooth. The Wi-Fi version will come in both 16 GB and 32 GB models while the 4G version will be available in both 32 GB and 64 GB models.
As to pricing the 16 GB Wi-Fi Kindle Fire HD 8.9 will sell for 299 USD while the 32 GB model will sell for 369 USD. If you require access to the Internet at all times, you can opt for the 4G model which will set you back 499 USD for the 32 GB model and 599 USD for the 64 GB model. You can pre-order yours now but expect to get it after November 20 when they both will become available.
Finally we have the Kindle Fire HD tablet. It features a 7-inch HD display at 1280 x 800 resolution, a fast dual-core TI OMAP4460 processor at 1.2 GHz and 16 GB or 32 GB of storage. The 16 GB model will cost 199 USD, while the 32 GB model will sell for 249 USD. You can pre-order the Kindle Fire HD now and get it on September 14 when the tablet becomes available.
Source: Droidmatters.com