Archos budget oriented Arnova 8 and Arnova 10 Android tablet are now available for pre-order from J&R for $159.99 and $199.99, respectively. At this price you will receive a 8-inch 800 x 600 resistive, yes you read well, a resistive touchscreen display, a 600MHz processor and Android 2.1 Eclair OS for Arnova 8 model.
As you can see the spec aren't any spectacular, but the Arnova 8 is still capable of 720p HD video playback, has a 802.11b/g WiFi, a 4GB of internal storage, a microSD card slot, two USB 2.0 ports,  two built-in speakers, microphone and bilt-in Lithium Polymer battery that sustain up to 5.5h video playback  and up to 25h music playback time. The tablet measures 8″ x 4.2″ x 0.5″ and weighs 13.7 ounces.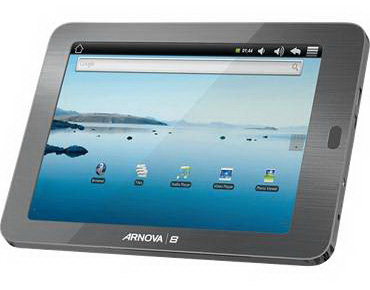 As for the Arnova 10 it packs a 10-inch 1024 x 600, again resistive touchscreen display, front-facing VGA camera, and has a battery life of up to 6 hours.