Archos, the French maker of tablet devices, will begin offering a new bargain tablet that is the successor of the 7-inch Archos 70. The new device will be called Archos 70B and will ship with Android 3.2 for a price of 199 USD.
Hardware specs are similar to other 199 USD tablets and include a single core processor at 1.20 GHz, 512 MB of RAM, 8 GB of internal storage that can be expanded via a microSD card and a touchscreen display that supports 1024×768 resolution. The Archos 70B tablet also comes with a HDMI port that allows connection to a home theater system and 802.11 b/g/n Wi-Fi for internet access.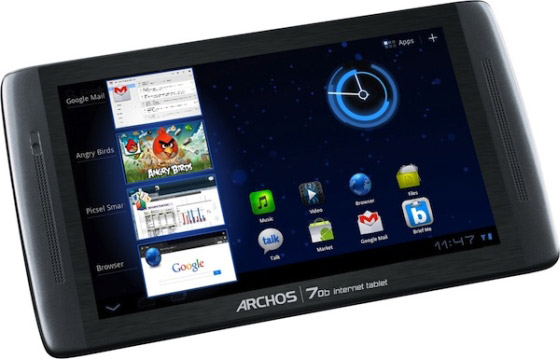 What's really new is that the 70B offers Android Market right out of the box. This makes it the third Archos tablet that comes with Honeycomb and offers Android Market – along with Archos 80 (270 USD) and Archos 101 G9 (340 USD).
Archos is expected to bring the 70B to CES 2012 in January — at which point it will also be available for purchase.
Source: Geek.com