bModo Inc. unveils its new 11.6-inch tablet, which unlike most common tablets that are available recently,  runs Windows 7 OS instead of Android.
From bModo says that the tablet combines the best features of an iPad, Tablet, and Notebook PC. Called bModo12, it has Mg-Al Alloy casing, measures 295 x 195 x 14 mm, weights 990 grams and has a LCD 11.6-inch HD GLARE capacitive touchscreen with 1366 x 768 resolution.  Powered by Intel Atom 1.66GHz processor and Integrated Graphics Media Accelerator 500,  the tablet has 1GB of RAM, a 32GB solid state drive (optional SSD 64GB to be available in later models), 802.11 b/g/n WiFi, WWAN Module (3G) HSPA 7.2 Mbps (AGPS) 900/1800/2100, Discrete 1080p HD Video Accelerator, Bluetooth 2.1 + EDR, GPS, G-Sensor (3-axis sensing), a 1.3M pixel and mic, two built-in speaker x1.5W x 2 and and a 4800 mAh battery, offering up to 5 hours of operation.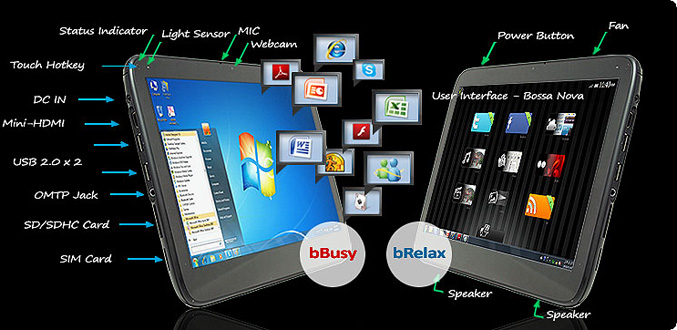 The bModo12 also comes with a variety of connectivity options such as: two USB ports, a SD card slot, an HDMI out port, an OMTP jack,  a SIM card slot and even 26 pins connector for Docking. As you might be expected, the tablet  supports all PC applications including MS Office, MS Outlook, Adobe Acrobat, Photoshop, Intuit QuickBooks, Flash, Skype, Yahoo IM and more.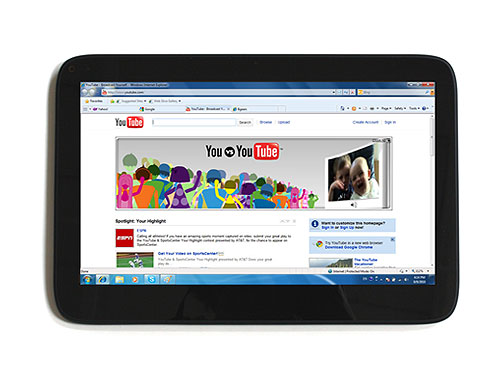 bModo also include BossaNova2 launcher application, focused on multimedia and social networking applications like mobile web access, Facebook, Twitter, flickr, photo, map, music, video, RSS and much more, and allowing you to switch between a Windows7 desktop and Bossa Nova user interface with ease.
bModo12 is scheduled to ship before the 2010 Christmas shopping season for $700.