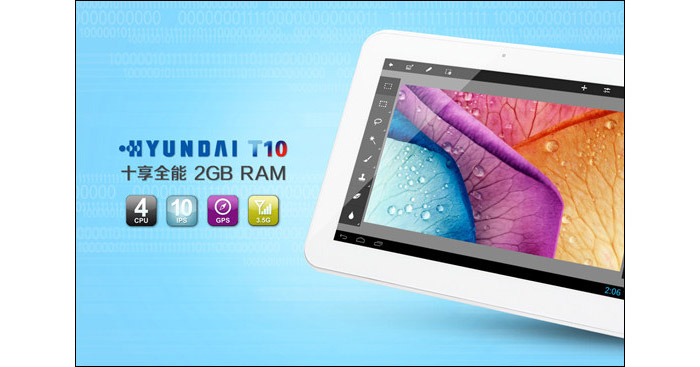 The South Korean Hyundai has prepared a new entry to the tablet market – a new tablet computer, which runs Android and is known as T10.
The Hyundai T10 is based on a 32 nm Samsung Exynos 4412 SoC with four ARM Cortex-A9 cores at 1.4 GHz and has Mali 400 graphics. The tablet offers a 10.1-inch IPS sensor display at 1280 x 800 pixels and 178-degree viewing angles, 2 GB of RAM, 8 GB of internal storage, a microSD card slot for expansion, a rear 2 MP camera, one front 0.3 MP camera, support for Bluetooth and 802.11n Wi-Fi, a GPS receiver and a built-in battery that can power the device for up to 5 hours.
Once available the Hyundai T10 will ship with Android 4.0 Ice Cream Sandwich but a bit later Hyundai will offer an upgrade to Android 4.2 Jelly Bean. Pricing and the official release date are still unknown.
Source: Liliputing