The buzz around the highly anticipated iPad 3 hasn't disappeared and high interest has prompted various investigations as to what the new digital device will have, how it will perform and how much it will cost. We still don't have answers to most of these questions but the picture is getting clearer with time passing by.
After a leak disclosed the possible iPad 3 chassis and camera another information leak followed this time regarding its processor. According to the info the iPad 3 will sport an A5X processor inside.
This news comes in contrast to what Apple fans have expected. After all the iPad 2 came with the A4 processor and the iPad 2 came with the A5 so it would be normal for the iPad 3 to come with the A6 processor, right?
Well, it appears this won't be the case. A leaked image of the CPU shows a processor that bears the A5X name instead of the A6.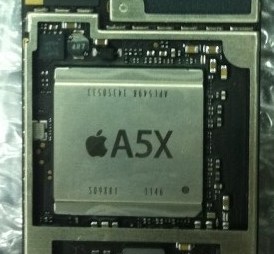 So why would Apple fans get an A5X processor? Here are the reasons – unlike the A4 which was taken off the shelf, Apple had to design the A5 from scratch using own resources which of course are not unlimited. In addition Apple simply does not have the time to design and manufacture an entirely new processor architecture and employ it in the iPad 3 less than a year after the release of the iPad 2. And last but not least – Apple does not really need a new processor since the A5 does the job perfectly.
This does not mean that the A5 can't be improved. The A5X is almost certainly an improved version of the A5 with a new graphics chip and an improved architecture. In fact the Cupertino-based company follows Intel's strategy that has been working perfectly in the past few years – design a new architecture and then update it, then design a new architecture and then update it. This is the story behind the huge success of Intel's Core and Penryn architectures and then Nehalem and Westmere and today Sandy Bridge, which will morph into Ivy Bridge in just a few months.
As of now there's no information about the specifics of the A5X but it will likely feature more cores, an updated architecture and a better GPU that is capable of running games at the huge 2048×1536 resolution. More information will surely become available later on with the iPad 3 release getting sooner and sooner.

Source: Techcrunch