The days of the Apple-Google tablet war are now numbered after Microsoft made an official announcement it will also enter the tablet market and will compete with the iPad and all tablets running on Android.
The announcement was made at a press event held in Los Angeles where Microsoft also unveiled its "weapons" – a new company-branded line of tablet devices that will carry the "Surface" product name. As expected the tablets will run the upcoming Windows 8 operating system.
So far the Surface line has two distinct members – a tablet that will run Windows RT and another tablet device based on the complete Windows 8 OS but both devices share a lot in common. For one thing they feature 10.6-inch touch screens and are housed in a magnesium chassis that Microsoft calls VaporMg (pronounced "Vapor mag"). The distinctive feature of the new tablets is a magnetically attached, 3mm-thick Touch Cover that folds down and functions as a full touchscreen keyboard. Another feature of the tablets is the built-in track pad – the keyboards power down when they're folded back against the tablet thanks to a built-in accelerometer.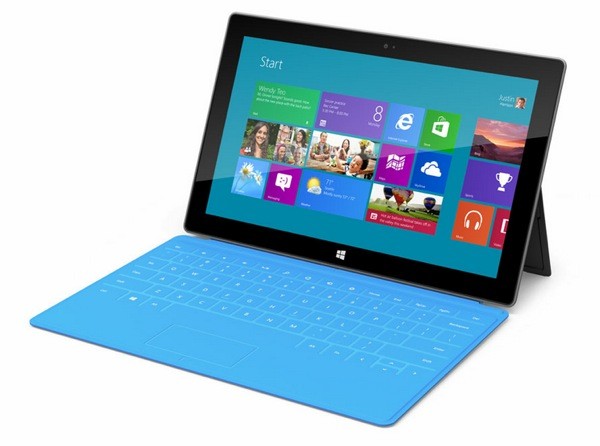 The first member – the Surface RT version – is expected to arrive first, sometime this fall and as the name suggest it will be based on Windows 8 RT. Powered by an ARM CPU, most likely NVIDIA Tegra 3, the Surface RT will be 9.3 mm thick and will weigh 676 grams (23.85 ounces). The tablet will pack a 10.6-inch ClearType HD display (likely at 720p resolution), front and rear cameras, microSD, USB 2.0, microHD video and 2 x 2 MIMO antennae. For storage you will be able to choose between a 32 GB and a 64 GB version.
About 3 months after the Surface RT arrival expect to see the Surface Pro – which will use a complete Windows 8 version and for this reason the tablet (which will strongly resemble an ultrabook) will be powered by an Intel Core i5 Ivy Bridge processor. The Surface Pro will be 13.5 mm thick and will weigh 903 grams (31.85 ounces). The 10.6-inch screen will bring Full HD experience, according to Microsoft, which surely means 1080p resolution. The tablet will also come with a microSDXC slot, USB 3.0 and mini DisplayPort video as well as front and rear cameras. For storage you will choose between 64 GB and 128 GB of capacity.
As to pricing – Microsoft did not unveil any prices but rumors suggest the Surface RT will sell for about 500 USD, which means the Surface Pro will be more expensive.
Source: Cnet.com