First introduced in March at CeBIT 2011, MSI now made official the WindPad 110W which is based on AMD Brazos Dual Core Z01 APUs and runs Windows 7 OS.
The tablet weighs 850g and is equipped with 10-inch IPS (1280×800) multi touch display, along with SRS wrap around sound and dual 1.3M cameras, on the front, and one on the back. Inside is the AMD's APU that was designed especially for tables which has two x86 cores at 1GHz paired with Radeon HD 6250 graphics core. The tablet also has up to 4GB DDR3 of memory, 32GB/ 64GB SSD storage, plus SD slot supporting up to 32GB, 802.11b/g/n & Bluetooth 3.0, connectivity, G-Sensor, ALS (ambient light sensor), USB 2.0 and mini HDMI port.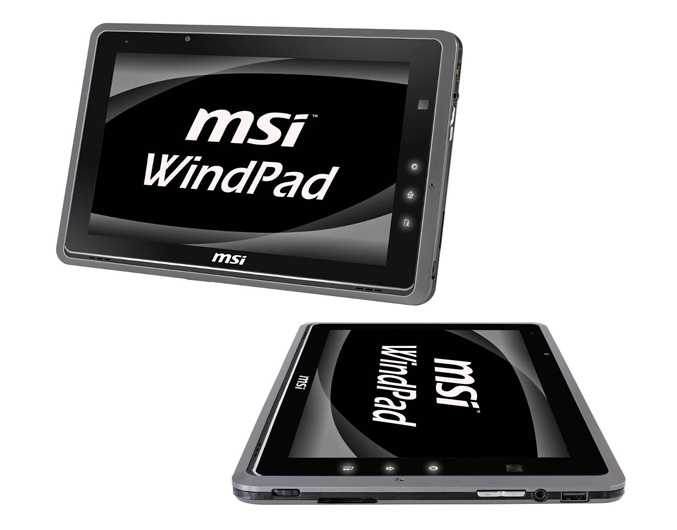 The WindPad 110W tablet also offers MSI's own Smart Tracker, which allows you to grip both sides of the tablet and use small finger movements on the hotkeys on the right side of the tablet. There's and dedicated SAS hotkey that performs the traditional role of the "Ctrl+Alt+Del" combination to open the Windows Security Window. It comes pre-loaded with Windows Office 2010 Starter and MSI's own facial recognition software which works in concert with the high definition webcams to protect data biometrically.
The Windows based tablet features brushed finish exterior and platinum trim, while the back is sheathed in MSI's own color film print to protect against scratching and wear. It is packed with a 4200mAh battery that can go up to six hours on a single charge.
MSI's WindPad 110W bears price tag of $599.
Source: MSI