NEC has launched a new business-oriented tablet – the VersaPro VZ – that will initially sell in Japan only.
The new digital device features a 12.1-inch display at 1024×768 pixel resolution and is based on Microsoft Windows 7 Professional. Inside the user will find a dual-core Intel Celeron 857 processor, running at 1.2 GHz and also featuring a built-in graphics chip. This Celeron processor sports high performance, low TDP and low energy consumption.
The new NEC VersaPro VZ also features 2 GB of RAM memory and instead of a traditional SSD or a hard drive, the device stores data onto flash memory that can be up to 64 GB depending on model. It is not clear, however, if the flash memory can be upgraded.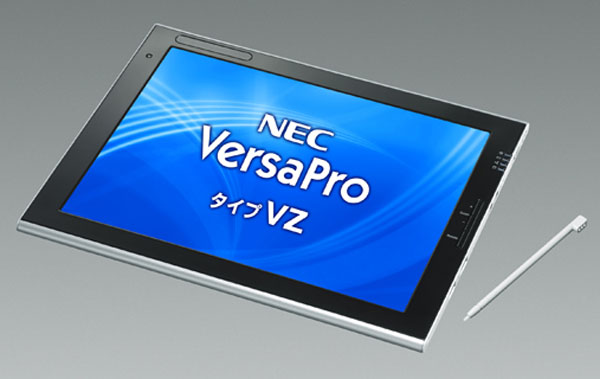 The business tablet also comes with USB ports, built-in audio, connectivity ports and Wi-Fi 802.11 b/g/n. Weighing 950 grams, the tablet comes with a stylus and includes a Japanese character recognition software. The battery capacity is unknown.
The NEC VersaPro VZ will debut on the Japanese market in May this year with possible market appearance around the world later on.
Source: Kaldata.com