News of an upcoming Philips tablet series just recently hit the Internet but the electronics company is not wasting time and the final result is now here – the Dutch company has unveiled its first tablet – the Philips Entertainment Tablet PI3800 – on the Chinese market.
The novelty features a 7-inch multitouch display with 1024 x 600 pixel resolution and is based on a 1 GHz Linley Group JZ4770 MIPS processor. The tablet measures 203 x 123 x 13 mm and weighs 365 grams and also comes with 8 GB of memory, a microSD card slot, a 2 MP rear camera, a front VGA camera, Wi-Fi 802.11 b/g/n, Bluetooth 2.1+EDR, USB 2.0, a 3.5 mm audio jack and a lithium ion battery with 4000 mAh of capacity.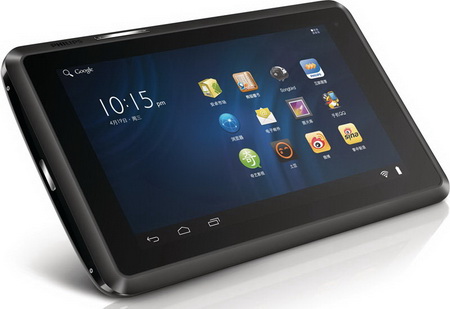 In addition the new Philips Entertainment Tablet PI3800 runs under Android 4.0 and sports Philips FullSound – a technology that eliminates the shortcomings of compressed audio, including MP3 files.
Pricing is unknown.
Source: Androidfox.ru