Samsung has introduced the ATIV product line, which includes devices based on Microsoft Windows, falling in the tablet, smartphone and PC categories.
Starting with the ATIV S we have a smartphone device that runs Windows 8 and features a nice design with a brushed aluminum finish at the back. The ATIV S comes with a 1.5 GHz dual-core processor, HSPA+ support, 4.8-inch HD Super AMOLED display, 8 MP rear camera, 1.9 MP front camera, Wi-Fi, Bluetooth, GPS, a memory expansion slot and a 2300 mAh battery.
The ATIV Tab is a tablet as the name suggests and is based on Windows RT. The ATIV Tab comes with a 1.5 GHz dual-core processor, HD LCD at 1366 x 768 pixel resolution, 5 MP rear camera, 1.9 MP front camera, micro HDMI, USB 2.0, Bluetooth 4.0, NFC, Wi-Fi, microSD card slot and a battery that holds the whopping 8200 mAh of power.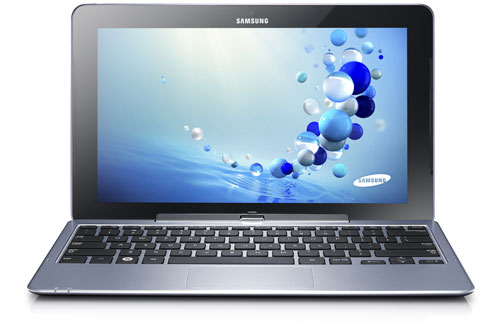 But that's not everything – Samsung also unveiled the ATIV Smart PC and the ATIV Smart PC Pro hybrid devices that are powered by Intel x86 processors and run the full version of Windows 8. Both PCs have a detachable keyboard docking system that can transform it into a laptop or a tablet.
There are some slight differences between the two PCs though. The Smart PC comes with an Intel Atom processor while the Smart PC Pro features an Intel Core i5 chip inside. Also the Smart PC has USB 2.0 ports, while the Smart PC Pro offers the faster USB 3.0 standard. Finally the battery is also different – the Smart PC offers a battery life of 13.5 hours while the Smart PC Pro offers just 8 hours.
Both PCs also come with an 11.6-inch 10-finger multi-touch screen, S Pen support and S Camera.
Pricing of all devices is unknown.
Source: Sammyhub