The tech web site Pocketnow has announced that Japanese tech giant Sony is getting ready to unleash a new tablet/notebook hybrid that will be known as VAIO Duo 11.
The device will run Windows 8 Professional and logically it is expected to come in stores this fall right after the release of Windows 8. There's no info whatsoever on the hardware specs but analysts expect the device to feature an Intel or AMD x86 processor since the official VAIO Duo 11 OS is Windows 8 Pro and not the RT version. The hybrid will also have a backlit keyboard and a sliding mechanism that transforms it from a notebook into a tablet and vice versa. As the name suggests the VAIO Duo 11 will come with an 11-inch display and will feature a stylus too.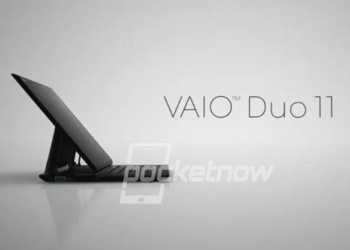 Right now there's no information on the exact release date or on the pricing.
(picture courtesy of Pocketnow)

Source: Mobilenews.bg