Thermaltake, leading brand for thermal solutions, introduces the newest addition to the Pure Silence ISGC series of case fans and coolers, the ISGC Fan 8 universal case fan. With a diameter of 80 mm the ISGC Fan 8 is not just a powerful complementary case fan for optimization of your overall airflow, but it is also compact enough to even fit into small form factor cases for HTPCs, NAS and the like. With the patented and specially designed fan blade edges, airflow is improved by 15% while noise is reduced by 3%.
The ISGC Fan 8's stylish design with a black frame and icy white blades isn't just fancy looking but at its heart the advanced Hydro Dynamic Bearing (H.D.B.) keeps it particularly silent and, more importantly, extends life time up to 50,000 hours. The bundled vibration-absorbing soft mounts guarantee for easy installation while at the same time absorb any possible fan vibration that could result in annoying noise.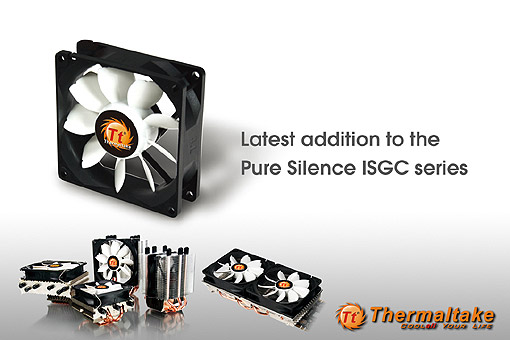 With the ISGC Fan 8 Thermaltake gives you direct and manual control over the rotations per minute (RPM). The user-friendly VR Fan Control switch allows for manual stepless adjustment of the fan speed between 800 and 1600 RPM for all the blow exactly the right blow you need.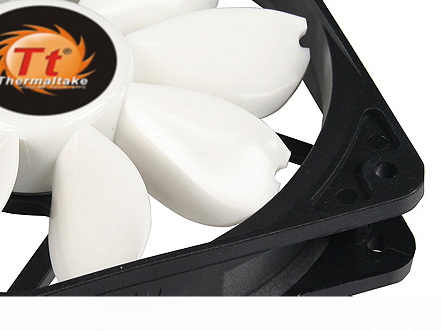 The Pure Silence ISGC Fan will be available mid-September at a suggested retail price of US$ 12.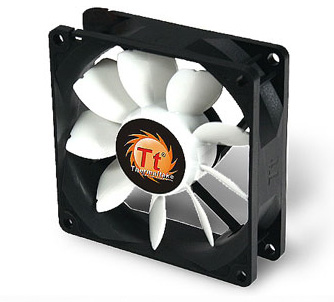 Source: Thermaltake