Thermaltake Technology, leading DIY computer components and power supply brand, announced a new edition of the award-winning "Toughpower XT" line of high-end PC power supply units. The New Toughpower XT with 25 watts more than other brands in the market. This added wattage is meant to enhance the system upgrade potential. Special features such as the DC-DC Converter Module, Double Forward technology and the new Active PFC circuit design increase the PSU's efficiency up to 89%, while at the same time improving system stability and reliability. The New Toughpowr XT utilizes high quality 105°C / 221℉ Japanese made solid state capacitors and latest PCI-E 6pin & PCI-E 6+2pin connectors to support latest multi-graphics solutions such as SLI and CrossFire X.
The four models of the new Toughpower XT series are all 80 PLUS® Bronze certified, they come in four versions with 575W, 675W, 775W and for demanding power users and hardcore gamers with 875W. All of this ensures that even power-hungry setups run at highest efficiency, thereby helping you to effectively save real cash on your next electricity bill while at the same time doing something good for the environment.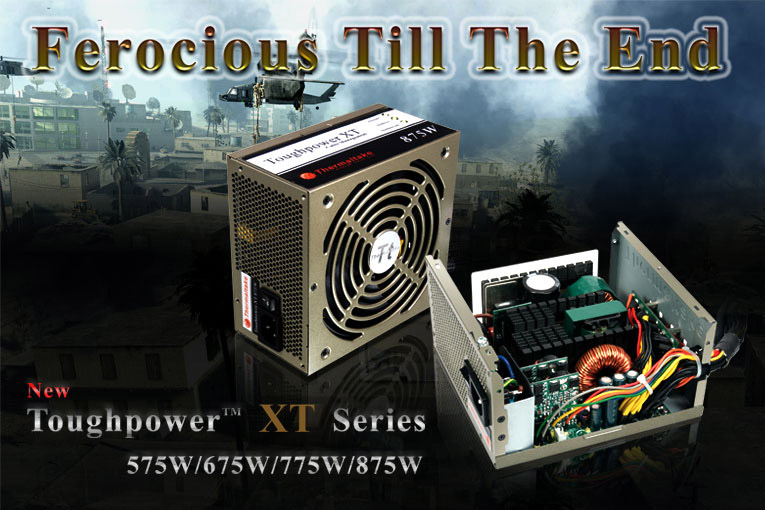 Traditional power supplies tell you nothing about the status of your PSU, so users find no way to protect their PSUs against failure. To help you monitor your power supply status, the Toughpower XT Series utilizes the S.P.T. indicator to display the Standby mode, the Power good signal, and the Temperature of your PSU, bringing you real-time monitoring over the power supply. The New Toughpower XT's exclusive 12Vin1 provides for a powerful single 12V rail for best compatibility. The unique FanDelayCool feature enables the 14cm fan to keep running 15-30 seconds after system shutdown to prolong the lifetime of PSU components.
The New Toughpower XT series by Thermaltake offers users an advanced power supply solution, striking the perfect balance between reliability, efficiency and quality. With the DC-to-DC voltage converter module, a 14cm cooling fan, S.P.T Indicator, 12Vin1, FanDelayCool function and 80 PLUS® Bronze certification, the New Toughpower XT power supplies are the ideal solutions for system builders and quality-minded enthusiasts alike.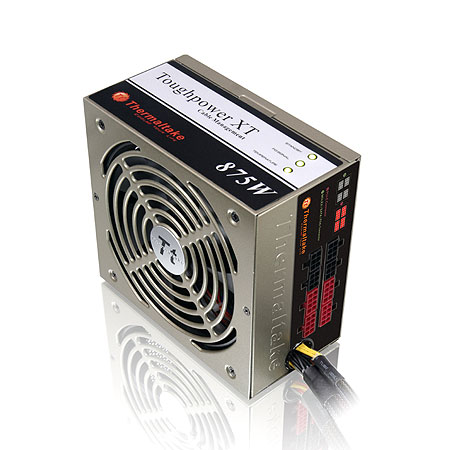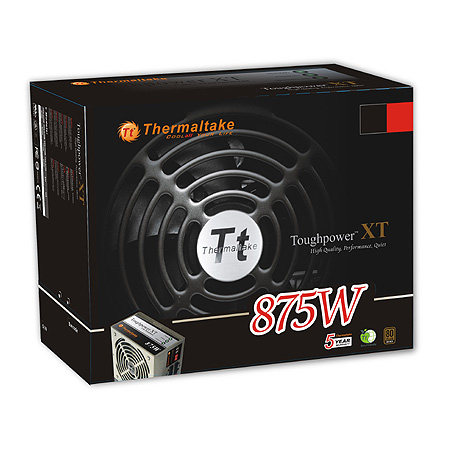 The New Toughpower XT 575W, 675W, 775W and 875W will be available at a suggest retail price of $109, $135, $145 and $159 respectively.
Source: Thermaltake