Toshiba FlashAir is World's First SDHC Memory Card with Wireless LAN

Toshiba Corporation is preparing the launch of the world's first SDHC memory card with Wireless LAN functionality. The card is called FlashAir and will allow you to transmit and receive files wirelessly from digital cameras,  smartphones and laptops.
If you're familiar with the Eye-Fi cards, you may be wondering what makes Toshiba's card different, well FlashAir cards can transmit as well as receive datas, not just transmit like the Eye-Fi card, andall this can be done at lower power consumption than other cards with similar functions. The SDHC flash card offers an 8GB capacity, 802.11b/g/n connectivity, weighs approx. 2g and first samples are expected to be available rom November 2011 and sales will start in February 2012.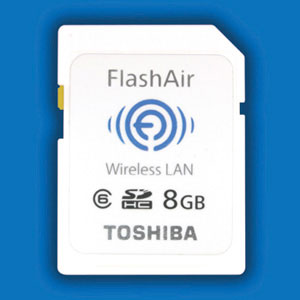 Source: Toshiba