Transcend Information Inc. a global leader in the manufacture of high performance memory modules, is proud to unveil 4GB aXeRam™ DDR3-1800 memory upgrade kits.
Designed specifically for hard-core gamers using only top-binned, premium quality DRAM chips and custom high-purity aluminum heat sinks with cooling fins, aXeRam DDR3-1800 dual-channel kits deliver amazing high-speed overclocking performance while maintaining cool temperatures and rock-solid system stability.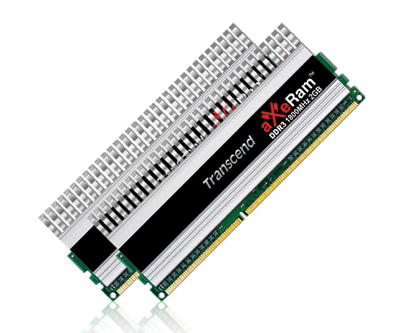 Transcend's 4GB aXeRam DDR3-1800 kit's two identically-matched 240-pin unbuffered 2GB DDR3 1800MHz DIMMs are carefully paired for use in dual-channel configuration, which together provide memory bandwidth of up to 28.8GB/s. To ensure extra-stability and signal integrity at high clock speeds, all aXeRam modules use robust eight-layer PCBs that fully comply with JEDEC standards. The aXeRam 128Mx8 DDR3 DRAM chips are selected with the strictest quality and performance standards and are manufactured using small Fine-Pitch Ball Grid Array (FBGA) packages to assure better thermal dissipation, electrical efficiency and improved overclocking performance. Transcend's aXeRam DDR3-1800 modules also support new Intel® Extreme Memory Profile (XMP) technology, which allows users with high-performance motherboards to easily overclock their memory with aXerRam's built-in aggressive speed-maximized profiles, or manually input their own memory timing parameters to take their system to the next level.
Transcend memory modules are built to highest specifications with the finest chips and materials available, and undergo rigorous testing to ensure they provide the best performance possible. Recognized worldwide for their reliable high quality, outstanding performance, excellent compatibility and stable operation, Transcend memory modules are the ideal choice for discerning power users.