Transcend Information, Inc. (Transcend®), a worldwide leader in storage and multimedia products, today launched its new RDP7 multi-card reader that features an integrated USB hub. With the addition of USB 2.0 ports, this high-speed 3-slot card reader can accommodate up to three USB peripherals in addition to reading most memory card formats available on the market.
The new RDP7 multi-card reader sports a stylish, handy design with clearly labeled slots and a bright LED for indicating card insertion and data transfer. Measuring just 88mm X 54mm X 10.6mm, the RDP7 takes up relatively little desk space and is extremely easy to carry around.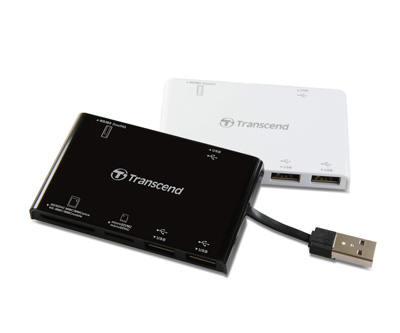 Combining a versatile multi-card reader with a useful 3-port USB hub, the dual-purpose RDP7 not only bridges the gap between PCs and memory card-equipped electronic gadgets like mobile phones, digital cameras or MP3 players, but also allows users to connect multiple peripherals, such as a USB mouse, flash drive, webcam or printer to their computer. Fully hot-pluggable and USB powered, the RDP7 requires no external power source and features a built-in USB cable that snaps conveniently into its chassis for extra portable convenience.
Fully USB 2.0 compliant, the RDP7 guarantees incredible speed and compatibility even when reading high-speed memory cards. The multi-card reader accepts today's most popular memory cards, including SD, SDHC, microSDHC, microSD, TransFlash, MMC, MMCplus, RS-MMC, MMCmobile, MS, MS PRO, MS Duo, MS PRO Duo, MS PRO-HG Duo and M2. With an adapter, the RDP7 can also support MMCmicro, miniSD and miniSDHC cards.
All Transcend card readers come with a free download of Photo Recovery Tool, and the RDP7 is no exception. This useful software features a quick and easy user interface that shows thumbnail previews of recoverable data. With Transcend's Photo Recovery Tool, lost, deleted or formatted files are just a click away! Currently available in black or white, the RDP7 is the ideal choice for accessing data stored on memory cards as well as USB devices.
Source: Transcend