Transcend Information Inc. (Transcend®), a worldwide leader in storage and multimedia products, is proud to announce its launch of 8GB DDR3-1066 Registered DIMM (RDIMM) and 4GB DDR3-1333 VLP (Very Low Profile) RDIMM modules. Featuring enhanced capacity, support for triple-channel memory configurations, and an onboard thermal sensor, these new high-density RDIMMs provide customers with cutting-edge support for higher data frequencies and significantly increase memory space.
As Transcend's highest density DDR3 module, the 8GB DDR3-1066 RDIMM is constructed with a robust ten-layer PCB that offers stable performance and durability, and also includes a high thermal efficiency aluminum heat sink to help maintain cool temperatures under load. Offering memory bandwidth up to 8.5GB/s and the flexibility to expand maximum capacity to 48GB (per processor), the 8GB DDR3-1066 RDIMM module allows administrators to create a robust infrastructure that runs memory-intensive applications such as virtualization and cloud computing with ease.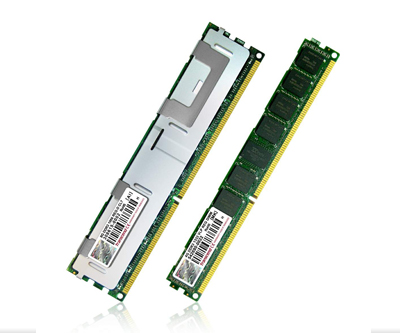 Small yet powerful, Transcend's 4GB DDR3-1333 VLP RDIMM is a mere 0.74 inches high—compact enough to fit into space-restricted cases, 1U height rack systems or blade servers. When used with the triple-channel architecture built into Intel's newest Nehalem-based Xeon server platforms, Transcend's DDR3-1333 VLP RDIMMs enable system administrators to maximize memory bandwidth, providing up to 10.6GB/s for optimal application performance.
All of Transcend's DDR3-1333/1066 RDIMMs fully comply with JEDEC (Joint Electron Device Engineering Council) standards and are built with 256Mx8 high-quality DDR3 FBGA chips for their improved electrical and heat dissipation characteristics. Backed by Transcend's lifetime warranty, these new DDR3 RDIMM modules offer unparalleled reliability for high-end servers and heavily loaded workstations.
Source: Transcend