Trimble introduced the Yuma™ rugged tablet computer, an military standards computing solution that can transport a user's office to the field, forest, desert or boardroom. Known for its family of rugged handheld computers, Trimble brings the same durability, reliability and feature-rich design to the Yuma's versatile tablet configuration making it a powerful mobile computing solution for public safety, field service, forestry, utilities, mapping, military and other outdoor or service-related applications.

The Trimble Yuma tablet is a fully functional computer that runs the Windows Vista Business operating system. Standard features include integrated WiFi connectivity, Global Positioning System (GPS) and two geotag-enabled cameras. The Yuma tablet is expandable via two USB 2.0 slots—a 34 pin Expresscard and SDIO slot. The seven-inch sunlight-readable WVGA color touch screen is ideal for a host of mapping and form-based applications.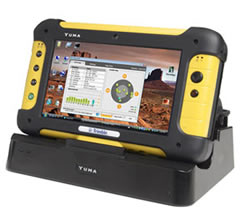 The versatile Yuma tablet brings full office capabilities to the field in a mobile package with its Microsoft Windows environment and wireless connectivity. With this true all-in-one computing tool, a mobile worker has greater flexibility for use. The Yuma tablet is at home in the harshest outdoor conditions as a hand-carried computer, mounted on a tripod or pole for data collection, or secured in a vehicle-mount for use as a computer on the road. It is equally adept in a climate-controlled office.
The Yuma tablet delivers the same survivability and versatility users expect from Trimble's outdoor rugged handheld computers. With a 1.6 GHz processor and a 32 GB solid-state hard drive, the Yuma tablet computer has no moving parts. This allows for operation in extreme arctic cold, hot desert sand or in a vehicle on unimproved roads. As with other Trimble rugged mobile computers, the Yuma meets stringent MIL-STD-810F military standards for drops, vibration and humidity. Its IP67 rating means it's impervious to dust and water and it operates in temperatures from -30 to 60 °C.
Approximately the size of a hardback book (5.5 inches high x 9 inches wide x 2 inches in width), the Trimble Yuma weighs only 2.6 pounds. It provides instant access to the Internet via expansion ports or a third-party cellular modem or satellite phone. The functionality of the Yuma tablet can be further expanded with an optional office docking station for connecting to an external monitor, printer or other office peripherals.
"Connectivity in the field is vital for mobile workers," said Shawn Curtis, marketing manager for Trimble's Mobile Computing Solutions Division. "Today, they demand integrated solutions that are reliable and easy-to-use, so they can be more efficient and avoid the need to transcribe information once they return to the office. With the Yuma tablet, Trimble delivers just that. Now, workers can carry their office wherever they work. Its dynamic mix of ergonomic design, ruggedness and computing speed comes at a cost of ownership that?s very attractive in the tablet computer market today."
The Trimble Yuma tablet computer is expected to be available in April 2009. For more information about Trimble outdoor rugged handheld computers, visit www.trimble.com/rugged, e-mail handhelds@trimble.com or call 541-750-9200.
Key Features




Intel Atom 1.6 GHz processor

32 GB solid state hard drive

Integrated WiFi b/g

Integrated Bluetooth 2.0

Integrated GPS

2 integrated cameras

ExpressCard slot

SDIO slot

Outdoor rugged design

7″ sunlight readable WSVGA touchscreen display

Light Weight (2.6 lb. with standard batteries)
About Trimble
Trimble applies technology to make field and mobile workers in businesses and government significantly more productive. Solutions are focused on applications requiring position or location—including surveying, construction, agriculture, fleet and asset management, public safety and mapping. In addition to utilizing positioning technologies, such as GPS, lasers and optics, Trimble solutions may include software content specific to the needs of the user. Wireless technologies are utilized to deliver the solution to the user and to ensure a tight coupling of the field and the back office. Founded in 1978, Trimble is headquartered in Sunnyvale, Calif.