Trust introduced new SIM & Memory Card Reader, mini card reader that reads mobile telephone SIM cards and all the popular compact memory cards (MicroSD card, T-Flash card, RS-MMC card.
The 39-in-1 SIM & Memory Card Reader is particularly suitable for use with a notebook. Furthermore, useful software is included as a bonus, which can be used to easily synchronize all your contacts and text messages on a SIM card.

Key features
Compact & fast USB 2.0 card reader supporting mobile phone SIM cards and 39 different memory card standards

With PC software for easy editing and synchronizing your contacts and SMS messages on your SIM card

PC software supports 5 languages: English, German, French, Italian and Dutch

Works with all common used compact sized cards from mobile phones and digital cameras

Very compact, space saving design; ideal for notebook users

Supports MicroSD/T-Flash/RS-MMC/SIM card standards without the need of a converter

Including protective USB cap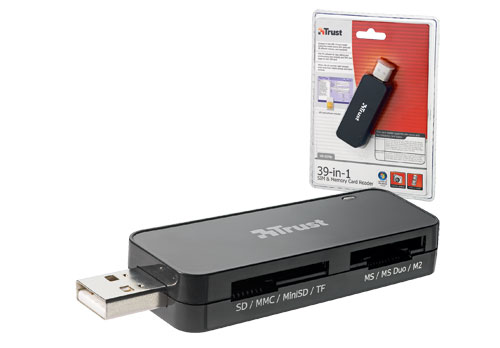 The Trust 39-in-1 SIM & Memory Card Reader and will be available from January, 2009.