Verbatim Launches InSight Portable USB Hard Drives with an Always On LCD Display

With the announcement today of its new InSight(TM) Portable USB Hard Drives, Verbatim(R) Americas, LLC, the world's leader in storage media technology, takes hard drive design to a new dimension. The sleek, durable enclosure is enhanced with a premium piano black finish that will appeal to professional as well as home users. Additionally, the InSight Portable Hard Drive features an Always On display, which automatically calculates and continuously displays the customizable drive name and available free space, even when the drive is disconnected from the computer. Shipping now, the palm-sized external hard drive will enable Windows(R) and Mac(R) users to instantly add 320GB or 500GB of stylish, removable capacity to their notebook or desktop systems.
"The new enclosure design for InSight Portable Hard Drives adds a touch of elegance to the external hard drive product category," says Charles Klinker, Verbatim's Director of Marketing, HDD Products. "Users have the option to personalize their drive's name, e.g., TUNES&PICS, which, along with the free space, shows on the 32 x 128-pixel display even when the drive is unplugged from the user's computer. The ability to quickly glance at several drives and identify the one that has pictures of the kids, your music collection or video library, for example, adds a level of convenience not previously available in portable hard drives."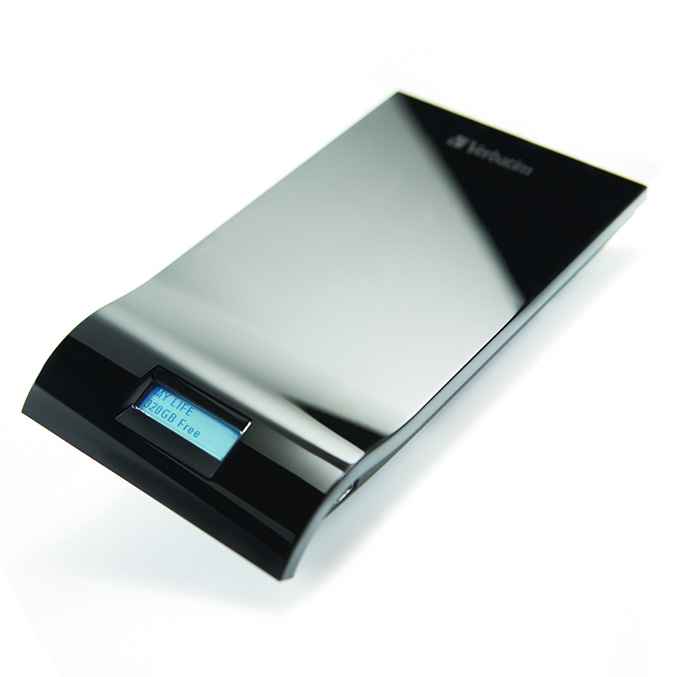 Both 320GB and 500GB-capacity drives include Nero BackItUp Essentials, a complete data protection solution, allowing full, automatic system backup and restore functions. Easy-to-use, the software guides the user to set up scheduled backups by date and/or time. Nero BackItUp Essentials also features data encryption with password control options, providing data security and peace of mind when traveling or storing the drive.
Designed to fit easily on a desktop or to be taken on-the-go, Verbatim's new InSight Portable Hard Drives weigh less than 6 ounces (164 g), and measure 6 in. X 3.4 in. X 0.63 in. (153 mm x 87 mm x 16 mm).
The 2.5" drives have a 5400rpm spindle speed and 8MB of cache memory to optimize performance. Equipped with a USB 2.0 port, the bus-powered drives achieve high-speed transfer rates of up to 480MB/sec.
Backed by a 5-year limited warranty, InSight Portable Hard Drives deliver unique functionality, safety, security, and reliability to all computer users.
Availability and Pricing
Designed for Windows Vista, XP or 2000 and Mac OS 9.x or higher systems, Verbatim InSight Portable Hard Drives are available through Verbatim retail partners such as Best Buy. Suggested retail prices are US$119.99 for the 320GB drive and US$149.99 for the 500GB drive. Backed by a 5-year limited warranty, the complete package includes the InSight Portable Hard Drive, a USB cable, Nero BackItUp Essentials Software for Windows, and a Quick Start Guide.
Source: Verbatim