VIA Technologies, Inc, a leading innovator of power efficient x86 processor platforms, today announced the VIA Surfboard C855 Reference Design – an ultra-compact mainboard incorporating the VIA C7-M ULV processor, the brand new VIA VX855 unified IGP chipset, and advanced VIA multimedia and connectivity silicon, that has been specifically designed for easy integration into devices targeted at the rapidly growing mini-notebook market.
Unveiled today at the VIA Global Mobility Bazaar (GMB) Tech Forum Spring in Shenzhen, China – an event bringing together a host of PC manufacturing and infrastructure partners focused on delivering affordable, power efficient mini-notebooks to global markets – the VIA Surfboard C855 Reference Design will not only reduce development time and costs for system manufacturers, but offers the latest advancements in ultra-mobile technology including smooth playback of high bit-rate 1080p HD video and outstanding 8-channel HD audio.
While consumers have been quick to endorse the mini-notebook form factor and the convenience provided by its connectivity and web surfing capabilities, the rise of HD video has resulted in a growing demand for better visual computing from ultra-mobile products.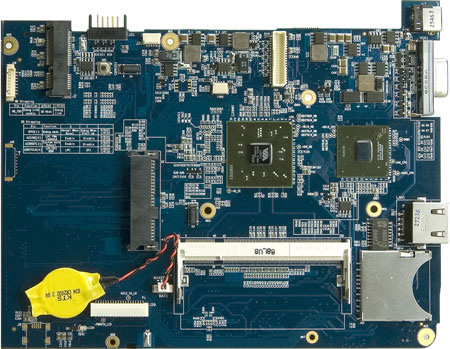 The VIA Surfboard C855 meets this demand by providing flawless playback of high bit-rate 1080p HD video, which along with support for internal display resolutions of up to 1366 x 768 pixels and external display resolutions up to 1920 x 1440 pixels, the latest high definition VIA Vinyl Audio, and a wide range of connectivity options, allows for a rich on-the-go multimedia experience.
"A key advantage of the VIA Surfboard C855 is the head start it affords mini-notebook system developers or those seeking to enter the market," said Richard Brown, Vice President of Marketing, VIA Technologies, Inc. "Not only is VIA in the unique position of being able to offer customers a complete, ready-to-build solution, but the new board's HD capabilities mean VIA-based mini-notebooks will provide a superior multi-media entertainment experience."
For more details on the VIA GMB Tech Forum Spring, please visit the VIA website at:
http://www.via.com.tw/en/company/events/2009gmb-techforum/
About the VIA Surfboard C855 Reference Design
Designed for 10-12″-screen mini-notebook devices, the powerful, feature-rich yet highly power-efficient VIA Surfboard C855 Reference Design comes with a VIA C7-M ULV processor supporting an 800MHz FSB, combined with the VIA VX855 media system processor with its support for a wide range of digital media technologies and I/O appropriate for the mini-notebook market.
The advanced graphics experience of the VIA Surfboard C855 Reference Design is powered by the high performance VIA Chrome9 HCM IGP offering support for hardware acceleration of the widest variety of leading video standards including H.264, MPEG-2/4, VC-1 and WMV9, which significantly reduces the workload and power consumption of the processor and enables high bit-rate HD video playback while utilizing less than 40% of CPU resources.
The latest high definition audio is supported through VIA Vinyl 8-channel HD audio, and a rich range of connection options includes support for Bluetooth, Wi-Fi, GPS and 3G for unparalleled flexibility.
More information about the VIA Surfboard C855 Reference Design may be found on the VIA website at:
http://www.via.com.tw/en/initiatives/spearhead/surfboard_c855/index.jsp
Source: Press Release