VIA Technologies, Inc, a leading innovator of power efficient x86 processor platforms, announced the first ever Mini-ITX board to feature a dedicated on-board graphics processor and dual HDMI ports. The VIA VB8003 is ideally suited for a range of advanced digital media applications, supporting the latest advanced HD codecs and DX10.1 graphics. A wide range of connectivity options are available, including four display configurations using the VIA VB8003's two HDMI, DVI and VGA ports.
The VIA VB8003 takes advantage of the 'VIA Trinity' platform, the codename for a unique combination of 64-bit VIA Nano processor, VIA VX800 media system processor and a dedicated S3 Graphics processor; producing a perfect blend of Hi-Def video playback, DX10.1 graphics and multiple display connectivity, all within a ruthlessly low, industry-leading thermal envelope.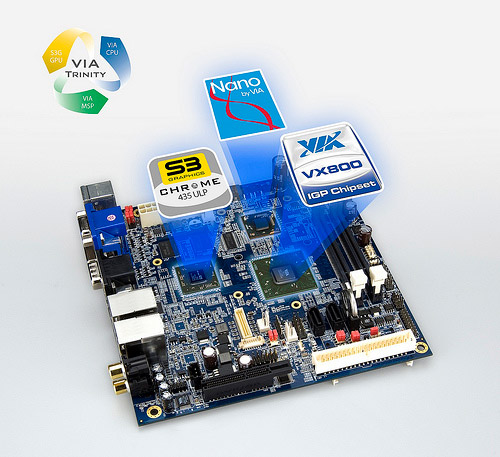 The VIA VB8003 Mini-ITX board can utilize the integrated graphics of the VIA VX800 MSP in tandem with the dedicated S3 Graphics processor to offer developers the widest possible variety of multi-display configurations, including dual-HDMI, LVDS, DVI and VGA technologies. Powering HD content playback across as many as four uniquely configured displays, with supported resolutions of up to and beyond 1080p, the VIA VB8003 is a HD powerhouse, ideal for a range of next-generation digital interactive devices and digital signage applications.
"The VIA VB8003 is the first Mini-ITX board to harness the unique performance efficiency of the VIA Nano processor combined with a dedicated HD capable DX10.1 graphics processor," said Daniel Wu, Vice President of VIA Embedded, VIA Technologies, Inc. "We are confident that the HD adept VB8003 will be massive hit with developers of the latest digital multimedia devices, making it easier than ever to employ high resolution, compression intensive content across multiple displays."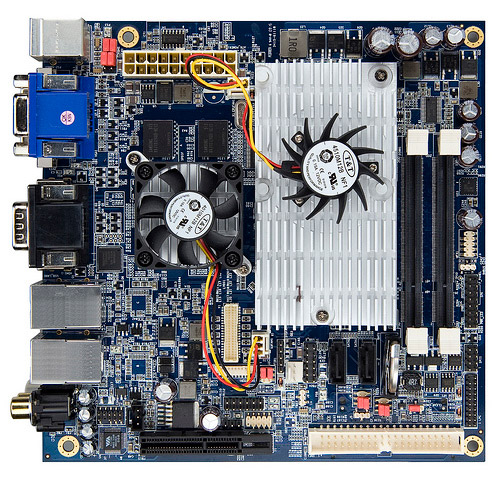 About the VIA VB8003
The VIA VB8003 Mini-ITX board is powered by a 1.6GHz VIA Nano processor coupled with the VIA VX800 media system processor and the S3 Graphics 435 ULP graphics processor. Supporting up to 4GB of DDR2 system memory, the VIA VB8003's dedicated GPU can take advantage of 256MB of dedicated GDDR3 graphics memory.
On-board I/O includes dual HDMI, a DVI port, VGA port and two RCA jacks, dual Gigabit Ethernet RJ-45 ports, four USB 2.0 ports, serial and PS2 ports. Storage includes two S-ATA ports, a 40-pin IDE and a type 2 Compact Flash slot.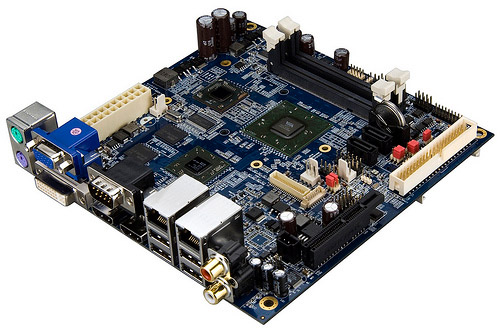 The S3 Graphics 435 ULP Graphics Processor
The S3 Graphics 435 ULP dedicated graphics processor is specially designed to provide advanced multimedia capabilities for next-generation embedded applications and is the lowest power DX10.1 GPU on the market today. The S3 Graphics 435 ULP is a 64-bit processor that supports the latest display connectivity technologies, a DirectX 10.1 graphics engine and OpenGL 2.1 unified shader.
Featuring the ChromotionHD™ engine, a fully programmable video architecture with true HD quality 1080p playback on the latest HD standards including Blu-ray Disk, H.264, VC-1, WMV-9, MPEG-2/4 and AVS, the S3 Graphics 435 ULP offers stunningly smooth HD playback at resolutions of up to 2560 x 1600 pixels.
Source: VIA