VIA Technologies, Inc, a leading innovator of power efficient x86 processor platforms, announced the launch of VIA's first embedded box computer; the VIA AMOS-3000. Ideal for a variety of embedded applications, the VIA AMOS-3000 is a robust, custom-designed system based on the ultra compact and versatile VIA EPIA-P700 Pico-ITX board.
Inspired by classical Chinese architecture, the VIA AMOS-3000 chassis combines heavy-duty steel, aluminum and copper in a unique heat fin design that offers superb heat dissipation. Using a total of only five mechanical pieces – top cover, bottom plate, front and rear I/O access plates and DOM module – and measuring only 13.5cm(w) x 4.5cm(h) x 13.1cm(d), the VIA AMOS-3000 is strong, durable and heat efficient, yet tiny enough to fit in the palm of your hand. The VIA AMOS-3000 can be installed easily using simple table, wall and VESA mounting options.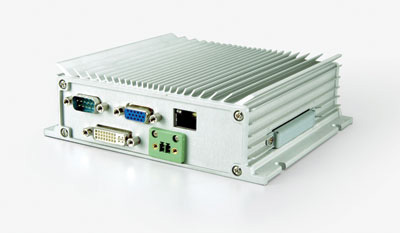 The VIA AMOS-3000 is a complete system that uses no moving parts, making it an excellent choice for mission-critical applications in harsh industrial environments, while the full featured VIA EPIA Pico-ITX board is ideal for a range of x86 applications including gaming, digital signage, industrial automation and in-car entertainment.
"We have drawn on the strength of our engineering expertise in developing our boards and form factors and taken the step of developing our own custom-designed systems. This has allowed us to produce some truly compelling embedded system designs," said Daniel Wu, Vice President, VIA Embedded Platform Division, VIA Technologies, Inc. "The VIA AMOS-3000 represents the first of many diverse embedded system products based around our own exclusive range of EPIA boards."
The VIA AMOS-3000 will be on show at Embedded World 2009, March 3-5 at the Exhibition Center Nuremberg, Hall 12, No. 350. For more details about VIA's involvement at Embedded World 2009 please visit:
http://www.via.com.tw/en/company/events/2009-ew/index.jsp
Source: Press Release