Blu-Ray recorder launch from Panasonic – Scientists discover the value of family memories.
"- Average family memory worth £28,500 – 4 out of 10 Brits would sell a treasured family memory for hard cash" Scientists have revealed for the first time a formula that puts a definitive price on family memories – and armed with that knowledge, 4 out of 10 Brits would willingly sell their memories for hard cash.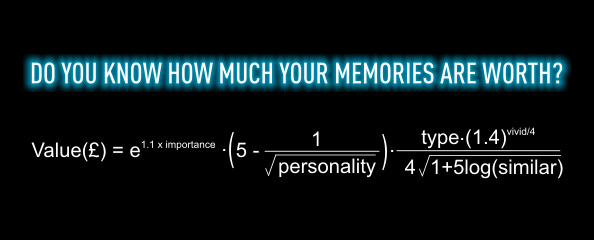 The development of the formula, commissioned by Panasonic, by psychology of memory expert, Dr David Lewis at University of Sussex, marks the launch of Panasonic's Blu-Ray recorder, which stores family memories in HD to a Blu-Ray disc.
Using variables of vividness, importance and uniqueness, Dr Lewis devised a weighted 'best-fit' mathematical model based on a survey of 2,000 UK adults.
The results put an average family Christmas at £542, a wedding at £3 million (that value decreases for second or third weddings!) and a cherished first kiss at just under £23,000. Twenty-one per cent said they would sell any memory for under £10,000 – 1 in 16 said they would be happy with £100 or less.
Men are more likely to give up treasured family memories – over half (51%) said they'd be willing to sell off their fondest memories for a price, compared to just over a third of women who would be willing to do the same.
Using a scale model produced by Mindlab, anyone is able to 'plug in' numbers and come up with a monetary value for a particular memory. People are invited to calculate the value of their memories at www.hdeverything.co.uk
David Preece, Blu-ray recorder Marketing Manager at Panasonic comments: "Memories make up our entire lives. Though some may be more valuable than others, no one can deny the power of the emotion they evoke. One of the more interesting results from the survey is that more people are using electronic means like digital photographs, video or blogs to catalogue their life experiences. We've recognised that need by releasing the UK's first Blu-ray disc Recorder which will allow you to store all your home movies and photos for ever in High definition, that's priceless."
Source: Panasonic