Pioneer Electronics (USA) Inc. announces its Elite® BDP-09FD flagship model has become the world's first Blu-ray Disc® Player to achieve THX® certification and that its Elite® EX Series in-wall speakers have attained THX Select2™ certification. These products complement Pioneer's current top-of-the-line Elite A/V Receivers that are the world's first and only THX Ultra2™ Plus Certified receivers to feature Class D digital amplification. When used alone or as a system, Pioneer's comprehensive line of THX Certified audio and video products deliver faithful reproduction of multi-channel entertainment that is unmatched by any manufacturer. Attendees can experience the dynamic capabilities of Pioneer's home theater products in its sound demonstration room at booth #3009.
"Pioneer recognizes THX as the industry benchmark for rigorous, unbiased testing and endorsement of high performance home theater products," said Russ Johnston, executive vice president of home entertainment business solutions group at Pioneer Electronics (USA) Inc. "As true A/V specialists, our engineers have worked relentlessly to craft a full line of products that rival the movie theater experience, which not only meet Pioneer's strict principles for faithful reproduction of content, but now feature THX certification."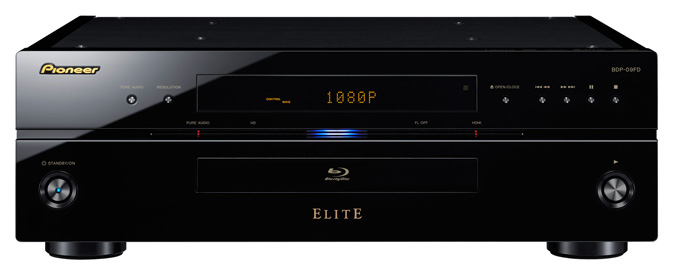 First and Only to Feature Three Categories of THX Certified A/V Products:
Pioneer's no-compromise engineering approach continually strives to deliver content with the same level of detail, precision and power as it was produced for the cinema or in the studio. Pioneer's THX Certified series includes:
Elite BDP-09FD Flagship Blu-ray Disc Player: At the forefront of optical disc innovations for more than 30 years, Pioneer continues to lead Blu-ray Disc product advancements with its BDP-09FD. Outfitted with high-grade components and proprietary processing technologies, the player's THX certification guarantees performance that matches the original content.
Elite EX Series In-Wall Speakers: Built from the ground up by Chief Speaker Designer Andrew Jones and his team of engineers, the Elite EX line integrates Pioneer's 70-year heritage in speaker manufacturing and is specifically designed for ultimate fidelity throughout the home. Pioneer's S-IW891, S-IW691 and S-IW691L integrate the exclusive Coherent Source Transducer (CST) driver technology that improves off-axis performance and provide a smoother, more accurate frequency response to fundamentally expand a room's "sweet spot." THX Select2 certification validates their capability to output the same sound level as what is required in the movie theater.
Elite A/V Receivers: Pioneer's ICEPower Class D amplifier is uniquely designed for a more compact chassis resulting in higher power output and better energy efficiency of any A/V Receiver on the market today. First shown in the flagship SC-09TX to meet the emerging needs of high-resolution audio formats, THX certification verifies that the A/V receiver can deliver crisp, clear sound even at studio reference volume level. Pioneer has continued to integrate this digital amplifier technology in its current THX Certified SC-25 and SC-27. Worldwide, Pioneer has the most THX Certified A/V Receivers in the industry with more than 100 models.
For more information on Pioneer's trio of THX Certified product categories, visit www.pioneerelectronics.com.
Source: Pioneer