MSI announced that their full mainboards line-up now provides safe and fast USB charging for your iPad, iPhone, iPod and iPod Touch with new feature called i-Charger software.
"MSI i-Charger is a Windows resident program capable of revising power supply mode of your USB port. Once an iPad is connected to your USB port the i-Charger sends a signal to initiate its charging circuit." MSI also announce that in addition to the full series of mainboards and other of their products will include this feature like notebook, personal and All-in-One computers.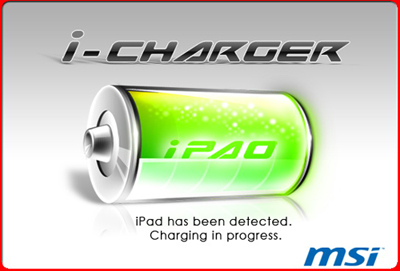 This special recharge utility is needed because Apple's iPad has a special charging requirements as it requires 1.2A power supply rather than the 0.5A current available with conventional USB interfaces. That is ordinary personal computer cannot charge your iPad even at power on status.
i-Charger download link: hire