Samsung Telecommunications America introduced the new and stylish Android-Based phone, the Samsung Intercept, which features 3.2 inch touch-screen display, 3.2 megapixel camera and video, and a full slide-out QWERTY keyboard. It also comes with preloaded social applications and one-touch picture posting to the most famous social networks.
The Samsung Intercept will be available on the 11th of July, 2010, in Gray Steel and Satin Pink, throughout all the Sprint channels at the retail price of just $99.99 after a $100 mail-in-rebate with a two-year service agreement.
Samsung Intercept is powered by Android 2.1 and provides access to the most popular Google mobile services like Google Search, Google Maps, YouTube and more than fifty thousand applications waiting in the Android Market.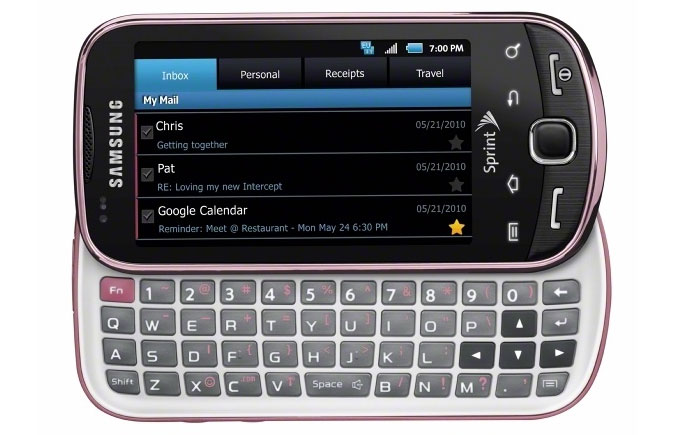 "Samsung Intercept is a valuable addition to our growing portfolio of Android phones with a rich Internet browsing experience, visual voicemail and practically all of the latest must-have features," said Kevin Packingham, senior vice president of product development for Sprint. "Best of all, at this price, we are able to bring the Android experience to a broader audience that will appreciate the versatility that comes with access to thousands of apps on Android Market. This is a great device for those who use their wireless device to manage a business or socialize with family and friends."
"The Intercept is a perfect example of Samsung's commitment to bring the latest Google mobile services, social applications and popular features to smart phones for the mass market," said Omar Khan, chief strategy officer for Samsung Mobile. "Users will enjoy the Intercept's stylish design, full QWERTY keyboard and access to full web browsing and Google services for a full-featured smart phone experience."
Specifications of the Android-Powered Samsung Intercept:
Home screen that scrolls right to left for more space to organize widgets and apps
3.2 Megapixel camera and video camcorder
MP3 Player with MicroSD card slot (supports up to 32 GB)
Stereo Bluetooth® wireless technology
Visual voicemail
Sprint TV®, Sprint Football Live and NASCAR Sprint Cup MobileSM
Access to social networking sites Facebook®, Flickr® and TwitterTM
Access to personal and corporate e-mail
Easily view Word, Excel, PowerPoint on-the-go to maximize productivity