novero, a company passionate about creating wireless products that move seamlessly with your life while enhancing your style, announces the availability of TheFirstOne, a premium Bluetooth® earpiece that connects you to your phone with sophistication and simplicity. Those with an appreciation for fine accessories can purchase TheFirstOne by visiting www.novero.com.
Stylish
TheFirstOne's sleek shape and white façade compliment your lifestyle. Whether on the avenue with friends, or on the boulevard in your car, TheFirstOne is always there – fashionably, effortlessly. Debuting in lily-white and brushed with silver accents, TheFirstOne is beautiful, yet unassuming and never the focus of attention.

Convenient
TheFirstOne is crafted with the understanding that people live their lives on the move and the things we use most need to fluidly travel with us. That's why TheFirstOne comes with a collection of accessories that keep it conveniently within reach. A cradle for your earpiece sits close to the steering wheel, keeping TheFirstOne charged at all times. And no longer do you have to dig in a handbag to find your earpiece or carry it in your pocket, the necklace or wearable clip allow TheFirstOne to easily stay with you. Recognizing that we all have different needs, TheFirstOne can be adjusted to fit comfortably in your ear.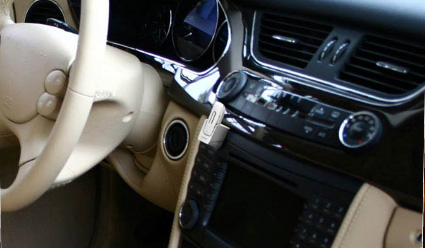 Unsurpassed
TheFirstOne is uncomplicated and technically refined. Crafted from high quality components to deliver crystal clear phone calls, it even goes a step further by reducing distracting background noise. When dialing someone's number or making a three-way call, you need only touch a button or use a voice cue. TheFirstOne continues to make life easier by automatically pairing as soon as it's turned on and within range of your handset.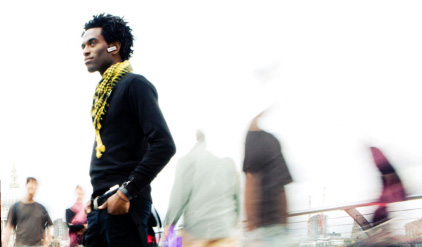 "We are driven by imagination and optimism, and believe that by looking at things differently new ideas are born," said Razvan Olosu, founder and CEO of novero. "TheFirstOne is an example of this mindset. Created to be intuitive and above all else stylish, TheFirstOne is a signal of subtle individuality."
What to love about the TheFirstOne:
Great Design: Small, unique and artistic, TheFirstOne accentuates individuality, yet is subtle in lily-white and silver
Accessories: A charging car dock, desk stand, necklace and wearable clip – all designed to keep the earpiece near
Comfortable: Seven interchangeable rings ensure a snug and secure fit in the ear
Exceptional Quality: Designed to the most advanced Bluetooth standards
Noise Cancellation: Dual-microphone DSP technology helps to reduce noise and make conversations sound clearer
Three-way Calling & Voice Dialing: Conveniently activate calls with a single button press or voice cue when supported by the phone
Easy Pairing: Enters into pairing mode within seconds of being turned on and is compatible with nearly every Bluetooth-enabled handset on the market today
Talk-time: Chat for up to 4.5 hours without having to recharge
Stand-by Time: Stays charged for over 100 hours when not in use
Charging: Attractive in-car and desk charger keeps TheFirstOne powered up without ever having to think about it
A product of novero's engineering labs, TheFirstOne is a lifestyle accessory of the highest quality. At launch, TheFirstOne will cost $149. For more insight, please visit  ww.novero.com.
Source: novero